Smoking is not a habit you would expect to be taken up by professional footballers. The insane cardio levels players need to keep themselves ahead of their competition surely leaves no room for such a notoriously unhealthy habit. Here, we take a look at 10 top flight players of the modern game who have been caught sneaking a puff!
It is common knowledge that back in the days of Bobby Charlton and George Best and earlier, players would enjoy a smoke – sometimes even at half time! It must be taken into consideration, however, that during the 1930s-1950s, doctors were prescribing cigarettes to patients!
The understanding that cigarettes are dangerous to our health has come a long way, as has the beautiful game. To think of a player smoking in today's game, with players being expected to remain at the very peak of cardiovascular health, is almost ludicrous.
Here, however, we give you 10 examples of modern players who have been caught smoking!
Dimitar Berbatov
The former Spurs and Manchester United striker has been photographed on a couple of occasions enjoying a cig. Despite this, Berbatov claimed that he was only pretending to smoke because he 'looked cool' holding the cigarette when the left hand photograph (above) was taken.
Jeremy Mathieu
Mathieu played for the likes of Valencia, Sporting Lisbon and Barcelona during his career. The midfielder has won 2 La Liga trophies, 2 Copa Del Rey trophies, a FIFA World Cup, a UEFA Champions League, a UEFA Super Cup and the Supercopa de España. He has also been found to enjoy the occasional smoke…
Carlo Ancelotti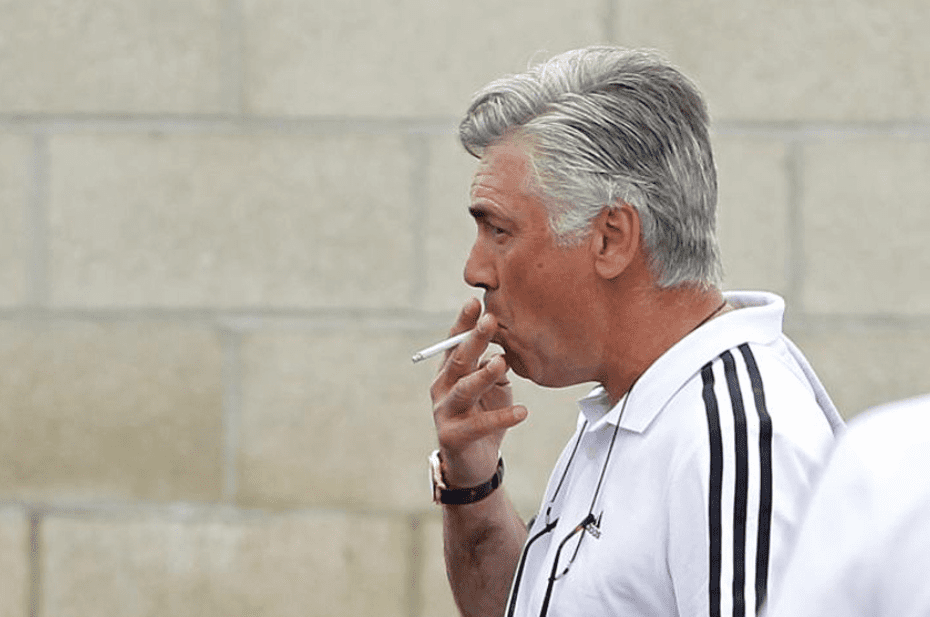 The former Real Madrid, Chelsea, and Bayern Munich manager reportedly took up smoking when facing a stint on the sidelines whilst playing for Roma as a 25 year old. During his playing career, Ancelotti also represented AC Milan as well as Italy. He was even banned from the bad habit by Bayern Munich when he managed them.
Ashley Cole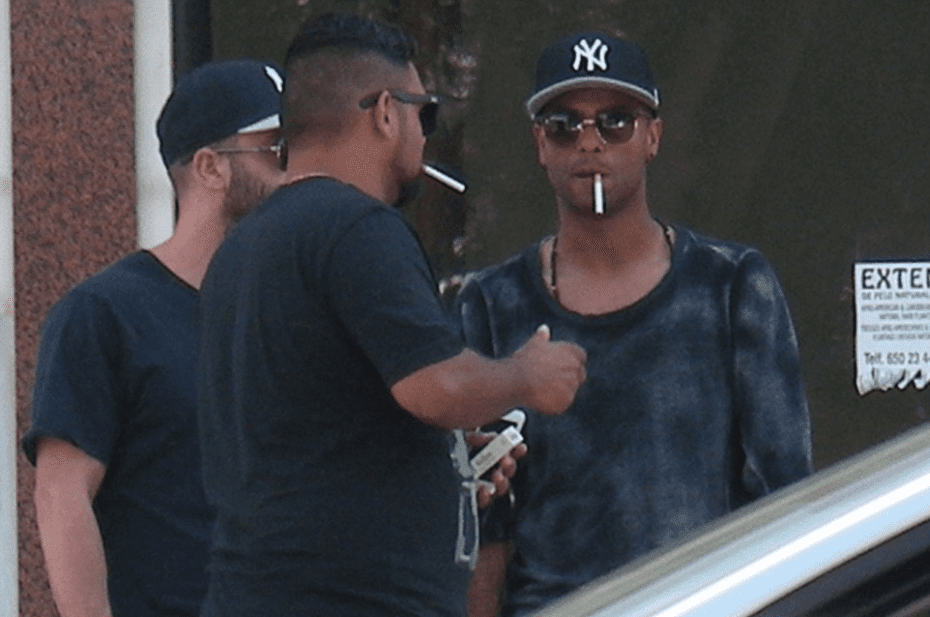 The former Chelsea and Arsenal left-back was at one time considered to be one of the best to fill the position, and he enjoyed 107 caps for England as a result. It may then surprise you to know that, during his active career, Cole was often snapped smoking – most especially during summer breaks.
Wayne Bridge
Another former England player who has been caught puffing away is Wayne Bridge. The former Man City & Chelsea man has been caught in the act several times throughout his career.
Wayne Rooney
This list isn't all that flattering to England's former internationals. Everton and Manchester United legend, Wayne Rooney, was photographed on several occasions throughout his active career smoking whilst on holidays or nights out.
Fabien Barthez
The French shot-stopper has made himself famous for non-footballing reasons a couple of times in his career. One would be his infamous mid-match pee, whilst playing for Marseille. The other would be allegedly having Sir Alex Ferguson give up entirely on getting him to quit smoking, with the United keeper often puffing away the night before matches.
Gianluigi Buffon
Another goalkeeper to make this list – Gianluigi Buffon has arguably enjoyed one of the most successful careers out there as a number 1. He has 12 domestic league titles to his name, as well as a FIFA World Cup, and was voted the best FIFA Men's goalkeeper in 2017. It may surprise you to know that Buffon has often been caught smoking in his downtime and has seemingly made little effort to hide the fact!
Wojciech Szczesny
Goalkeepers seem to make up a good chunk of the players we found to have been caught enjoying a cheeky cig. Former Arsenal man, Wojciech Szczesny, is another to add to the tally. The Polish number 1 was even fined £20,000 by Arsene Wenger whilst at Arsenal. Szczesny himself stated that he held his hands up when asked about the habit, but never smoked whilst playing for Roma.
Wesley Sneijder
Our final entry on this list comes i the form of Dutch midfield ace, Wesley Sneijder. Sneijder was ranked as one of the world's best midfielders just over a decade ago, so it may surprise you to learn that the former Real Madrid & Ajax man has often been spotted puffing away whilst away from his footballing duties.