We all love to see an on-form striker net a hat-trick, and the Premier League has given us no shortage of them. But what about TWO hat-tricks in a single game?
This is an achievement that has only been reached four times in the Premier League since its conception in 1992. And only ONCE have both teams managed to produce a hat-trick hero in the space of a single match!
Here, we give you a quick rundown of those four scintillating games…
Wigan vs Blackburn Rovers – Dec 2007
On the 15th of December, Wigan Athletic took on Blackburn Rovers. Wigan opened up the scoring 10 minutes in via Denny Landzaat and struck again just 2 minutes later through Marcus Bent.
Wigan took a solid 3-0 lead 37 minutes in when Paul Scharner found the back of the net. This seemed to inspire something in Blackburn's Roque Santa Cruz…
The Paraguayan forward gained a goal back for Blackburn in stoppage time of the first half, bringing the tally to 3-1. Just 5 minutes into the second half and Santa Cruz strikes again. Just a further 11 minutes would go by before he undoes all of Wigan's hard work and becomes the first hat-trick hero of this matchup.
Santa Cruz's third goal was all the sweeter to Blackburn's travelling supporters, coming off the back of going a man down just minutes before.
Blackburn's momentum would however end there, as their hat-trick apparently set a fire in the belly of their opposition's forward, Marcus Bent.
Bent had already netted in the 12th minute of the game, and he would go on to become Wigan's hero of the day and make history by scoring goals in the 66th and 81st minutes. Bent's hat-trick not only secured the 3 points for Wigan, but also made that match the only ever in Premier League history to see both teams score one
Arsenal vs Southampton – May 2003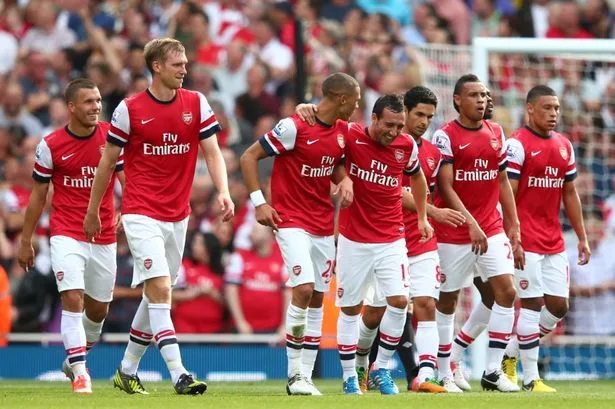 Our next entry is a match that Southampton fans will no doubt be happy to leave buried in the Premier League archives. They travelled to Highbury on the 7th of May 2003 to take on high-flying Arsenal.
The Saints were down 5-1 by the time the whistle blew for half time and our two hat-trick heroes had already emerged for Arsenal.
Robert Pires took the lead for the Gunners 9 minutes in.
This was followed up by Jermaine Pennant, who netted a brace at the 16 and 19 minute marks to take Arsenal up 3-0.
Pires took the challenge of his team mate and levelled his tally with Pennant 3 minutes later.
Pennant won the race to the hat-trick by putting the 5th nail in Southampton's coffin just 4 minutes after. Southampton claimed their only goal of the game through Jo Tessem 35 minutes in to round off the scoring for the first half.
It would only take Robert Pires 2 minutes into the second half for him to draw back level with Pennant and put Arsenal on the shortlist of teams who have had scored 2 hat-tricks in a single game. The scoreline stayed 6-1 for the remaining 43 minutes of the game.
Man City vs Man Utd – Oct 2022
Ah, the Manchester derby. Among many other talking points, this rivalry recently birthed one of the 4 examples of double hat-tricks in the Premier League.
Manchester United travelled to the Etihad on the 2nd of October 2022 for the first of their two Premier League clashes with City for the season.
Phil Foden upset the travelling fans just 8 minutes in to take City 1-0 up. Play settled down, but the Sky Blues continued to look dangerous, and they made that first half their own.
Erling Haaland complimented Foden's opener with a brace of goals at the 34 and 37 minute marks. As in our previous entry on this list (Arsenal vs Southampton), this inspired his team mate to take up the hat-trick challenge with him.
Phil Foden levels his tally with Haaland with a minute to go in the first half, leaving United 4-0 down by the time the whistle is blown.
United found the back of the net 10 minutes into the second half via Antony, giving the travelling support a glimmer of hope. Things did not go their way however, with a further nail being driven into their coffin less than 10 minutes later when Erling Haaland won the race to the hat-trick with Foden.
Manchester United know their day is over when Foden catches up to Haaland and nets his own hat-trick just 7 minutes afterwards. The Red Devils find two consolation goals late on in the game through Anthony Martial, but it is not a day they will remember fondly.
Southampton vs Leicester City – Oct 2019
The only team to find themselves on this (very) short list is Southampton. And sadly for the Saints, not for the right reasons. We've saved the most ridiculous scoreline for last with this one…
On the 25th of October 2019, Southampton welcomed Leicester City to Saint Mary's.
The Foxes struck first via Ben Chilwell just 10 minutes into the match, and things would only get worse from there for the home fans. The Saints went a man down just 2 minutes after conceding, with Ryan Bertrand being given a straight red card.
Youri Tielemans took Leicester up 2-0 at the 17 minute mark, and this was quickly complimented with another goal from Ayoze Pérez 2 minutes later.
Southampton were down 5-0 by the half time whistle, with further goals coming from Pérez and Jamie Vardy at 39 and 45 minutes.
Leicester didn't stop there however, and with 57 minutes played, Pérez nets his hat-trick. Jamie Vardy adds another to his tally just a minute later, as Southampton fans lose all hope at 7-0.
James Maddison added his name to the score sheet with 5 minutes left, but there was still another goal in Leicester City, who were already running rampant at 8-0.
Jamie Vardy was determined to find his own hat-trick, and in the 4th minute of stoppage time he gets his chance. Leicester are awarded a penalty and he puts it away, adding that match to the end of our shortlist of Premier League games with double hat-tricks!