Jack Grealish and Erling Haaland celebrated Manchester City's FA Cup win in true style, adding a touch of humour and excitement to the team's jubilant dressing room celebrations.
As the players basked in their victory, Grealish couldn't help but issue a playful warning to the club's kitman, Brandon Ashton, as he indulged in a customary tradition of sliding across the room in his underpants.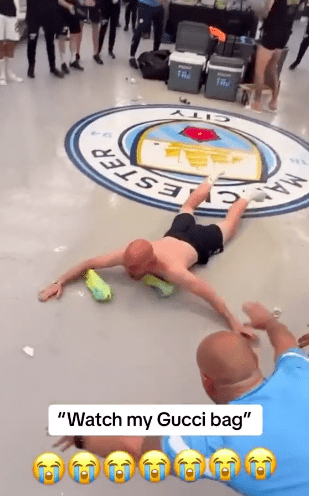 Meanwhile, Haaland joined in the festive atmosphere by stripping down to his underwear and joining his teammates in a dance.
The scene inside the Manchester City dressing room was one of pure joy and camaraderie after the team clinched the prestigious FA Cup.
The players were in high spirits, revelling in their achievements, and eager to celebrate in their own unique ways.
Among the standout moments were the antics of Jack Grealish and Erling Haaland, who injected an extra dose of entertainment into the festivities.
Seeing the Man City kitman sliding towards his own £1,730 designer bag, Grealish shouted: "Watch my Gucci bag, f***ing hell!"
Meanwhile at the mancity dressing room @JackGrealish #ManCity #FACupFinal #FACup #Manchester #Grealish #Gucci pic.twitter.com/2LkTWRKYXg

— Bashir (@Katongolebash20) June 4, 2023