Choosing the right pair of football boots for your budget is hard work nowadays. Here, we give you our top 5 men's football boots that retail for UNDER £60!
It's not uncommon nowadays for manufacturers of football boots to charge £150 upwards for a replica of your favourite players' footwear.
But what is out there for those who are not looking to break the bank in order to take to the pitch?
Even Umbro, who were long considered to be more of a budget brand for aspiring players, are asking £185 for their match-replica footwear.
To slip on a pair of Ronaldo-spec Nike mercurial elites, you're looking northwards of £250!
Although boots have come a long way and are nowadays rammed full of clever technology to aid your game, it's still nice to know what's out there for the average player.
So, without further ado, here are our top 5 men's football boots that retail for under £60!
Puma Ultraplay – £50
Puma have been a popular brand amongst professional footballers for some time now, with the likes of Thierry Henry, Diego Maradona, George Best and Neymar all having sported a pair at one point or another.
The Ultraplay are a firm ground boot designed with speed in mind, featuring a lightweight PU uppersole, a TPU 'Speedplate' outsole, and Puma's Formstrip on their lateral side.
Puma offer the Ultraplay in 3 colour schemes – Black & White, Ultra Orange, and Electric Peppermint.
The Black & White / Electric Peppermint pairs retail on Puma's site for £50, with the Ultra Orange currently on offer at £35!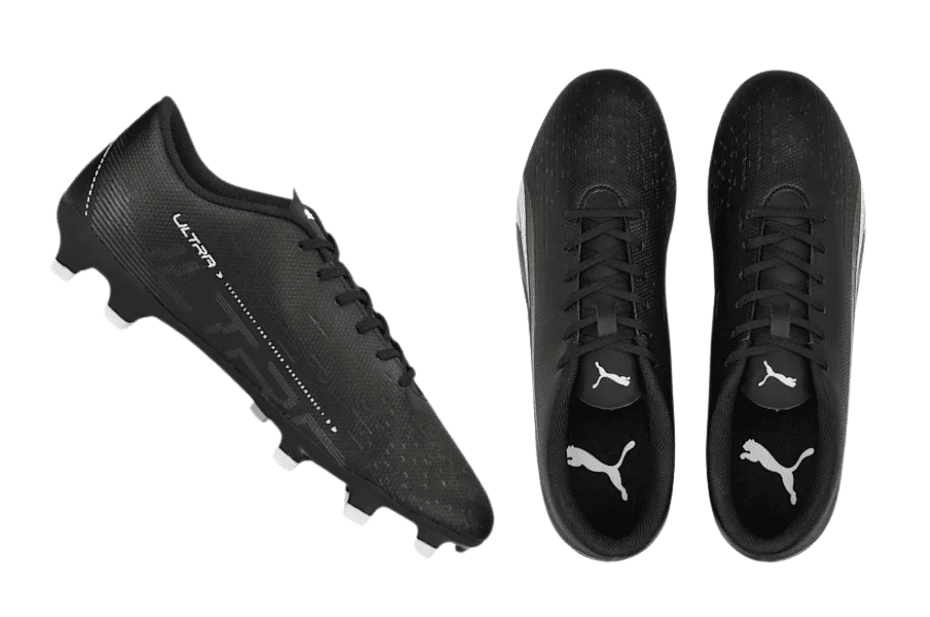 BUY PUMA ULTRAPLAY HERE
Diadora PICHICHI 5 MG14 – £45
Italian company, Diadora, have been around since 1948, showcasing some fine footwear along the way.
Although not as popular in the UK as the likes of Nike and Adidas, Diadora have always been at the forefront of football boot manufacturing.
The Pichichi 5 MG14 retails on Diadora's website for just £45, making them the most affordable boot on this list.
The insole has built in flex points to help with manoeuvrability, as well as a water resistant shell and non-stretch / non-slip fabric lining. It is worth noting that the Pichichi MG14s are suited to firm ground, rather than soft.
BUY DIADORA PICHICHI HERE
Umbro Velocita Alchemist Club – £55
Umbro have stepped up their game in recent years in order to battle with the football boot giants, and have come out with some nice looking models!
The Velocita Alchemist Club are made from a highly durable synthetic textile with a neoprene insert for comfort, as well as a stud formation specially designed for maximum traction when performing explosive movements in any direction.
Umbro currently have 3 colour schemes for the Velocita Alchemist Club – Blue Coral (photo), Rhubard, and Limeade. The Blue Coral & Rhubarb options retail at £55, with the Limeade colour-way currently at half price at £27.50!
These boots are designed for firm/mid ground as opposed to soft ground conditions.
BUY UMBRO VELOCITA HERE
Nike Phantom GX Club – £55
There is perhaps no more recognisable a name in the football boot world than Nike.
With a plethora of professionals opting for the American company's footwear to play their ball, Nike already have one of the strongest legacies of any brand in the game.
Whereas you may expect to be paying upwards of £200 to wear a pair of their modern boots, Nike do offer a comprehensive range of lower-priced models.
The Phantom GX Club are made with accuracy in mind, featuring a contoured PU leather outer, paired with asymmetric lacing to provide as close a touch as possible on the ball.
Nike offer 2 colour-ways in the Phantom GX Club – Black with White/Red alongside a Laser Blue (below). These nifty boots retail on Nike's website for £54.95 and are designed for multiple ground types.
BUY NIKE PHANTOM BOOTS HERE
New Balance 442 V2 Academy – £60
You may think of New Balance as a relative newcomer to the football boot market, however, it may surprise you to learn that they've been in the game since 1938!
Names such as Sadio Mané, Raheem Sterling, and Harvey Elliott all sport New Balance's footwear when out on the pitch, so they must be doing something right!
The 442 V2 Academy boots feature a more classic design, with modern spins.
The classic leather look is in fact a lightweight PU leather, which is paired with a lightweight TPU sole to give the classic look with a modern feel.
Leaning into the classic feel for this offering, New Balance only make the 442 V2 Academy in Black & White, which retail on their website for £60.
It is worth noting that these are a firm ground boot.
BUY NEW BALANCE 442 BOOTS HERE
So, there you have it – Our top 5 picks for men's football boots retailing under £60!
Looking for something a little more premium? Why not check out our list of the 5 MOST EXPENSIVE football boots on the market?