Manchester United's pursuit of a marquee signing has taken an intriguing twist, as reports suggest that the club is currently in talks with Paris Saint-Germain over the potential transfer of wantaway forward Neymar.
These negotiations could also be indicative of a potential ownership change at Manchester United, with Sheikh Jassim bin Hamad Al Thani reportedly in pole position to acquire the club from the Glazer family.
As speculation continues to swirl regarding transfer plans, L'Equipe reveals that discussions have commenced between United and PSG for a potential summer deal involving the 31-year-old Brazilian superstar.
While PSG is believed to favour a permanent transfer, Neymar's desire to embark on a fresh challenge has opened the door to the possibility of a loan arrangement, with United potentially contributing to his salary, and the option of a future purchase.
According to reputable French sports outlet L'Equipe, Manchester United has initiated talks with Paris Saint-Germain to secure the services of Neymar.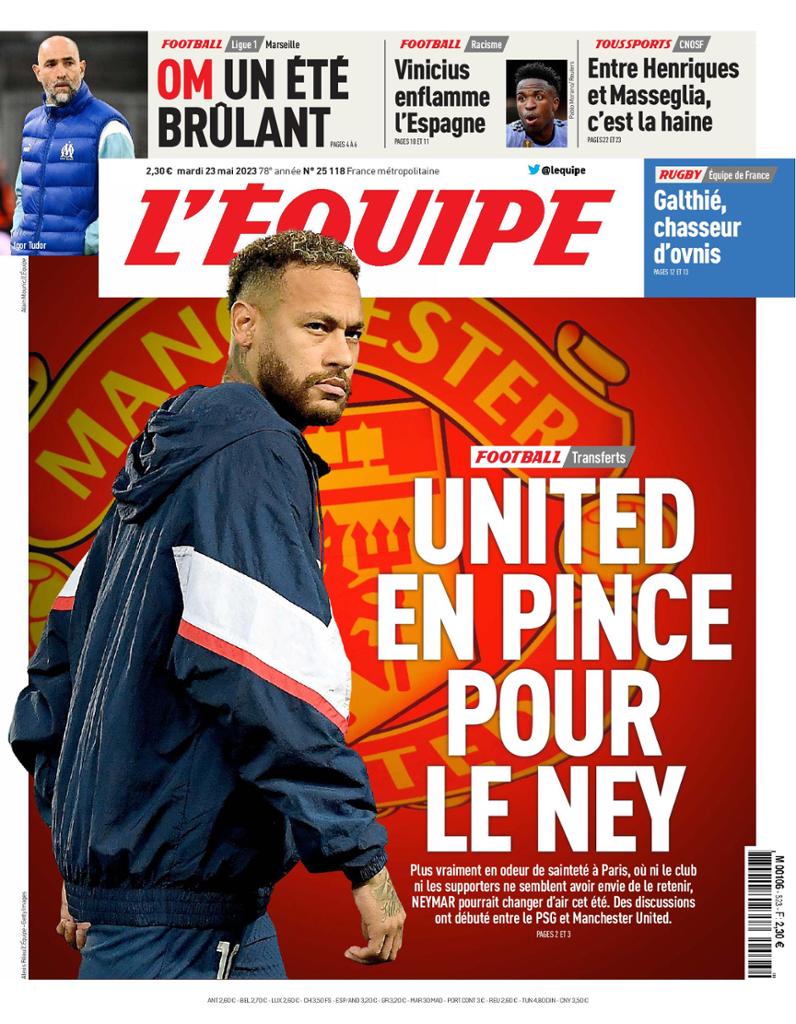 The Brazilian forward, who has made a significant impact since joining PSG in 2017, has expressed a desire to leave France and seek new challenges elsewhere.
This revelation has sparked interest from several top clubs, with Manchester United emerging as a leading contender.
The report indicates that PSG has a preference for a permanent transfer, seeking a transfer fee that would adequately reflect Neymar's market value.
However, given the player's wishes and the complexities surrounding such a transfer, PSG may be open to alternative arrangements.
One possibility that has been mentioned is a loan agreement, with Manchester United potentially covering a portion of Neymar's salary during his temporary stay at Old Trafford.
Such an arrangement could include the option for United to purchase Neymar at a later date, thereby spreading the financial burden and mitigating potential risks.
Amidst the negotiations, it is worth noting that these developments coincide with rumors surrounding a potential ownership change at Manchester United.
Sheikh Jassim bin Hamad Al Thani, a member of the Qatari royal family, has been linked with a takeover bid for the club, which could significantly impact the club's transfer plans.
If these reports hold true, it is conceivable that Al Thani's involvement could play a role in facilitating the pursuit of high-profile players such as Neymar, signalling an ambitious vision for the future of Manchester United.
Further fueling the speculation, it is reported that Erik ten Hag's trusted midfielder, Casemiro, has been in contact with Neymar to persuade him to consider a move to Old Trafford.
Casemiro's influence as a fellow Brazilian and his established role as a midfield general could prove pivotal in convincing Neymar to embrace the prospect of joining Manchester United.