Manchester United have been forced to close their official megastore after a throng of their fans formed an anti Glazer protest outside Old Trafford!
The protest was formed on the same day United unveiled their 2023/2024 home kit for purchase by fans, many of whom are more than disgruntled at the now 7-month takeover saga at Old Trafford.
The Glazer family first announced their interest in selling the famous Manchester club back in November 2022, after having already sold £128 million of shares starting back in 2017.
A number of big money names have been thrown into the mix for taking over the club, with fans experiencing ups and downs almost weekly as the American family try and decide what to do with United.
We even reported back in February this year that there may be a chance that the Glazers will remain at Old Trafford, despite an obvious disconnect from the fans.
Bids have been rejected, numerous deadlines extended, and through it all a certain sense of uncertainty has tainted an otherwise positive departure of the Glazers from Man Utd.
This all came to a boiling point today as a group of over 100 unhappy fans forced the closure of the club's megastore at Old Trafford, blocking the entrance to get their point across.
Banners bearing slogans such as "Glazers Out," "Don't Feed the Greed," and "Full Sale Only" were joined with anti Glazer songs, as the protestors attempted to make the sale of Man Utd's new home shirts difficult to get their message across to the money-driven American owners.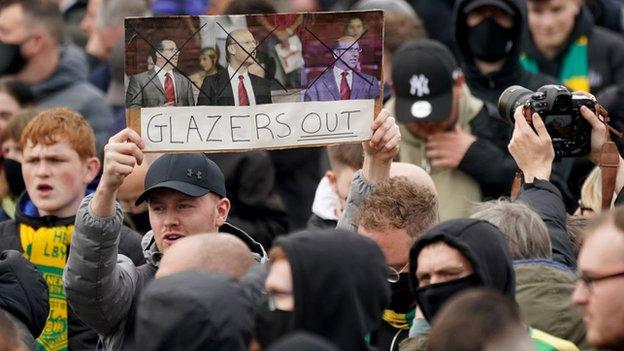 The fan group responsible are known as the 1958, who alongside shutting down the club's megastore also maintained protests on Twitter both towards United and their kit provider, Adidas.
The group hope that their clear message towards the Glazers will speed up the achingly drawn-out sales process of Man Utd, and bring to an end a miserable 2-decade ownership of the club.