Wearing your team's shirt is something you do with pride – for the most part. Others, not so much. Here, we count down our list of the 5 worst football shirts in history!
Most fans are used to having a new kit dropped by their club every year or two, and for the most part those clubs do their best to make their offering as appealing as possible.
In some cases, designers just miss the mark on creating an iconic shirt for their players and fans. In some rarer cases, it would appear they weren't aiming for that mark at all!
Take a look at the top 5 worst football shirts we could find for you below!
5) Carlisle United 1993 – 1995 home shirt
It's perhaps not surprising that an entry on this list hails from the glorious 90s, when brash, colourful and seemingly random designs were all the rage.
Carslisle United clearly caught the bug when they designed their 1993 home shirt, which features the expected folding collar, along with a pattern not too dissimilar from those found on bus seats around the UK at the time.
This gloriously loud shirt is then slapped with a sponsor that looks like an iron-on patch ordered from Ebay.
All in all, not the best looking result. This one is perhaps best left in its own era…
4) Fiorentina 1992/1993 away kit
This may well be one of the most famously bad shirts in the history of football.
Fiorentina's 1992/1993 away kit on initial glance doesn't look too bad. Garish, as is to be expected from a 90s offering, but not terrible.
Sadly, the longer you look at this particular garment, the worse it gets.
The kit was eventually removed from sale by Fiorentina, due to the unfortunate fact that the purple flanking sections appeared to be covered in swastikas.
It didn't take long for fans to notice this unfortunate design, one which kit maker Lotto claim was an unintentional optical illusion of the pattern.
Regardless, a kit covered in such a symbol has to make a top 5 worst football shirts list.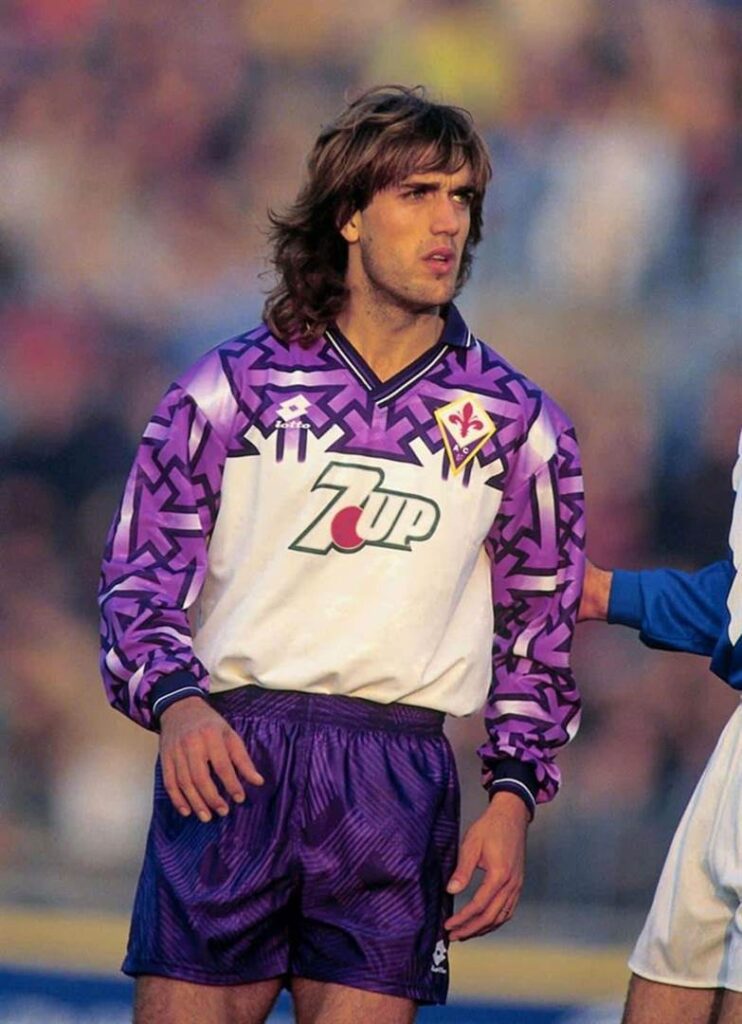 3) Nigeria 1994 away kit
Nigeria went into the 1994 World Cup sporting one of the best-looking home shirts in their history, but sadly did not achieve the same effect with their away strip.
What the designer was going for with the unique look of their second shirt remains a mystery – but the results is a white shirt, adorned with what at first glance appear to be dollar bills.
This could be considered to be something of a baller move, if not for the fact that was simply a bizarre design that gave this illusion.
Not to mention the matching shorts…
2) Brighton & Hove Albion 1989 – 1991 away kit
It has to be said that some of Brighton's recent shirts have looked pretty nice. The same can't be said for their choice of away shirt between 1989 and 1991!
It may not be a surprise that yet another entry from around the 90s makes its way onto this list on account of its loudness.
Brighton, however, managed to add a cherry on top, with a rather unfortunate front sponsor!
This truly special shirt features the traditional collar, paired with an almost tie-dyed look – finished off with the 'Nobo' sponsorship.
They also took a leaf out of Nigeria's 1994 playbook and went with the matching shorts…
IS THIS THE WORST AWAY KIT EVER? Brighton 1991 (unfortunate sponsor too). RT if you agree, or Tweet us a worse one ! pic.twitter.com/pF26PpRka8

— Acca Buddy (@AccaBuddyApp) November 7, 2013
1) CD Palencia 2016/2017 home & away kits
CD Palencia make the top of our list for having arguably the most awful looking football shirt to date, as well as for sporting it on both their home AND away shirt during the 2016/2017 season.
For whatever reason, the designers for the Spanish side decided to print the human musculoskeletal system across both the shirt and the shorts for their new look.
Their traditional red home colours only add to the purpose of the design, with the purple away offering giving the same effect with a more alien feel.
In both cases, it's pretty awful.
Thankfully, these strips were a one-off for their 2016 Fourth Tier playoff matches, so fans didn't have to look at them for long!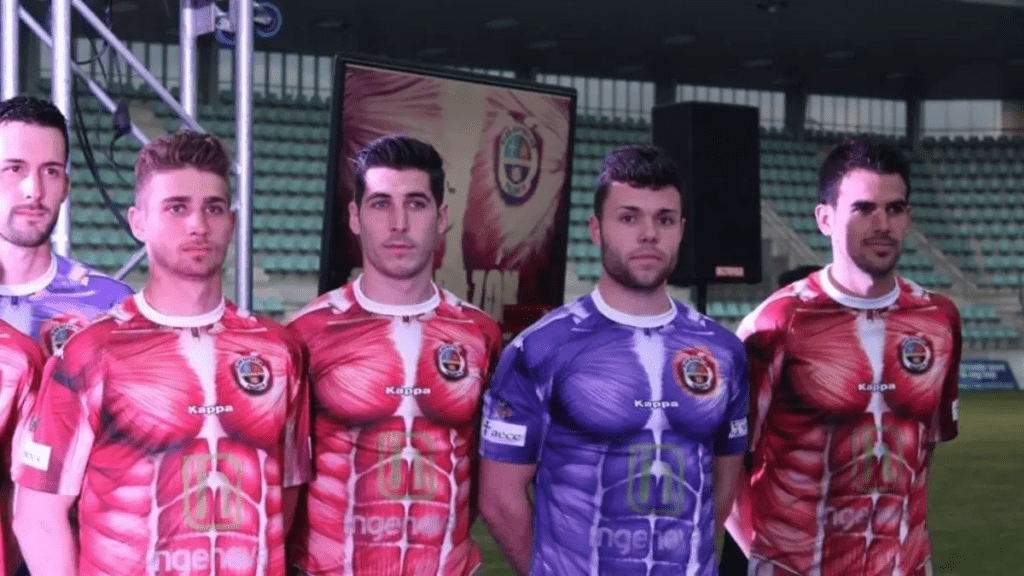 So, there's our pick of the top 5 worst football shirts to date.
Think we've missed one?
Join the conversation on social media! 👇