In the market for a new set of shin pads to get you through this summer's football but don't want to spend a fortune? Here are our top 5 picks of men's football shin pads for under £30!
Kitting yourself out to take to the pitch can end up being an expensive endeavour, and not everyone wants to spend hundreds in order to enjoy a game of footy.
You may have read our article on the top 5 men's boots for under £60, now here's our top 5 picks of men's shin pads for under £30!
5) Nike J Guard – £21.99
Nike were bound to make this list at some point or another, and at number 5 we have a minimalistic offering from their J Guard shin pads.
These pads are made from a high impact foam backing, fronted with a flexible impact plate, to provide ease of movement and high impact protection.
It is worth noting that these shin pads do not come with a leg sleeve as with some of the other "floating pad" entries on this list, but instead with two elastic securing straps.
The J Guards come in two simple but effective colourways – white with the classic Nike 'tick' logo, or the reverse (as pictured).
4) PUMA Ultra-flex sleeve – £20
Puma's ultra–flex sleeve are of the modern leg sleeve & loose pad design, aimed at creating a stylish, lightweight and minimalistic product.
Puma pair a flexible and high impact resistant TPU shell with a debossed, perforated CMEVA backing to provide ultimate flexibility and protection.
They are available in a range of flashy colour schemes, including 'Fiery Coral Fizzy Light' and 'Fizzy Light Parisienne Night' (a little much, we agree) and are just £20 below!
3) Mitre Aircell Pro Slip w/ lock sleeve – £19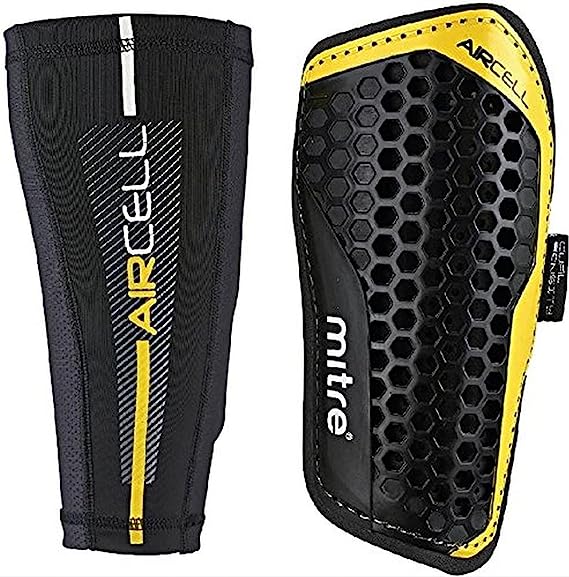 Mitre have some surprisingly nice pieces of equipment available to purchase, and they don't always break the bank either!
The Aircell Pro Slip (with lock sleeve – their brand of leg sleeve) are available for just £19 and pack an impressive amount of protection and functionality for that price.
The pads themselves are made from a dual density impact foam, which is capped with their lightweight "Aircell" TPU impact plate.
This lightweight and high impact absorbing pad then sits within Mitre's Lock Sleeve, which we have to say is one of the better built and more functional leg sleeves we've seen.
The result is highly effective protection paired with ease of mobility and a confidence that your pads won't need reshuffling every 5 minutes of the match!
It is worth noting that the Aircell Pro Slip pads are only available in the yellow/black colourway.
Buy the Aircell Pro Slip with Lock Sleeve for just £19 below!
2) Adidas X Speedportal League – £28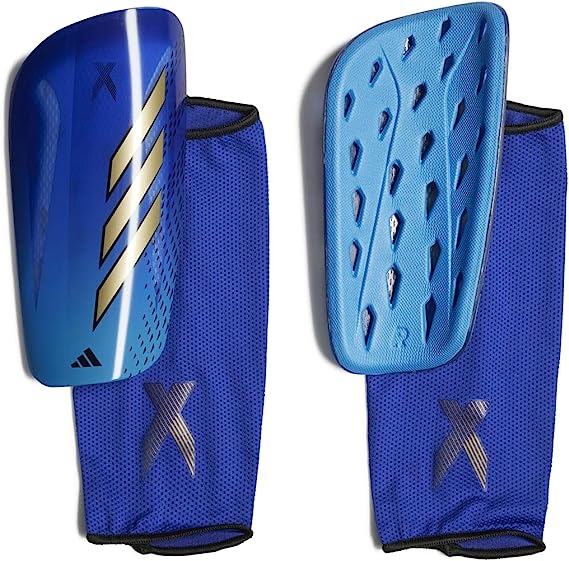 Another expected entry onto a list of top footballing equipment is the German giant, Adidas.
Although you usually expect to pay for that infamous brand recognition, Adidas have always had the mind to offer more affordable options when it comes to good protection.
The X Speedportal League pads are another to adopt the floating pad and leg sleeve, which we see so often nowadays.
Pairing an resin injected plate with a celled impact foam backing, you get what you expect when it comes to solid performance from these pads.
The leg sleeve is highly breathable, but perhaps not as durable as lycra offerings when it comes to tackle wear.
The X Speedflow League shin pads retail at £28 below!
1) Nike Mercurial Lite Superlock – £30
Nike's Mercurial Lite Superlock pads have been developed with a new spin in terms of keeping pads in place throughout a game.
This has long been the struggle with the leg sleeve and floating pad set up as seen in many modern shin pads, with hundreds of yards of sock tape wasted in search of a way to keep your protection where it should be!
These pads come with the high quality of protection you would expect from Nike, with their dual layer impact foam plating offering massive impact absorption, as well as keeping their product lightweight and manoeuvrable.
Their spiky Superlock design on the outside of the pad interlocks with the leg sleeve when positioned, allowing the pad and sleeve to remain as one during impacts and movement.
The Mercurial Lite Superlock shin pads come in a dynamic looking 'Racer Blue' and are available below for just under £30!