Thomas Gravesen's life has always been a fascinating departure from the norm, both during and after his football career.
The Danish midfielder, who made a surprising move from Everton to Real Madrid, has captivated fans and fellow players alike with his unconventional lifestyle choices.
Gravesen's unexpected transfer to Real Madrid remains one of the most remarkable moves in football history.
Despite his impressive performances for Everton in the Premier League, few could have predicted that he would end up playing for Los Blancos at the prestigious Santiago Bernabeu.
However, the Spanish giants acquired him for £2.5 million, and he spent a successful 18 months with the club.
Thomas Gravesen to Real Madrid pic.twitter.com/nI2RkjnnAo

— Jamie Mcillorum (@JMcillorum) May 31, 2023
While Gravesen's on-pitch antics were often talked about, it was his post-playing career that truly grabbed headlines.
After retiring from football, he embarked on a new path as a high-stakes poker player, reportedly amassing a fortune of around $100 million at the tables.
The former Real Madrid midfielder settled in Los Angeles for several years, residing in a gated community alongside notable personalities such as Nicholas Cage and Andre Agassi.
Yet, even during his playing days, Gravesen's unique personality set him apart from his friends.
There were numerous stories circulating about the Danish midfielder's tough-tackling nature, including a reported altercation with Robinho during a training session.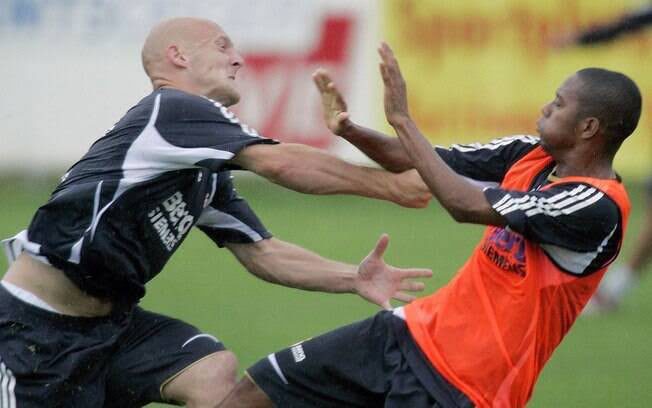 His teammates at Celtic, where he played for a year after leaving Real Madrid, were also intrigued by his personal life.
Paul Caddis, a former teammate of Gravesen at Celtic, shed some light on the Danish player's relationship with adult film star Kira Eggers.
When asked about meeting Gravesen's girlfriend, Caddis candidly replied, "No, she would stay in Denmark or something, his missus was a porn star wasn't she?
James Mcfadden on Thomas Gravesen: "He once brought a paintball gun to training & started shooting everybody.

Another time he went to the physio, who was running with some players, with a bunch of fireworks & starting firing at them."

Absolute mad guy😂 pic.twitter.com/DL9UYA1OwS

— Footy Accumulators (@FootyAccums) November 22, 2018
We used to say to him, 'Tommy, you got any pictures of your missus?'
'Just Google her lad, loads on Google,' Gravesen would reply.
He used to go back in pre-season and stay at either his mum's or his dad's [house] in an attic probably about the f***ing size of this full table.
"In this little attic, a tiny room for six weeks, just used to sit on his PlayStation.
"He was like number one or number two for Call of Duty at one point. "Honestly! He was f***ing mental, but what a brilliant guy."
While it may seem that Gravesen was living the high life even before retiring from football, the reality was slightly different.
Caddis revealed that the enigmatic midfielder would often return to Denmark during breaks from the sport and lead a modest lifestyle.
He would stay in a small attic room, comparable in size to a full table, at either his mother's or father's house for six weeks.
During this time, Gravesen would immerse himself in video games, particularly excelling at Call of Duty, where he achieved a high ranking.