By the age of 16 Freddy Adu had been drafted by an MLS side, become the youngest player in his national side, and scored 4 goals in a World Cup. But what happened to the USA's young superstar?
For those of you unfamiliar with the name, Fredua Koranteng Adu, or 'Freddy' is a Ghanaian-born American attacking forward, once tipped to be "the next Pele".
Adu was born and raised in Ghana, and lived there until 1997, when at the age of 8 he moved with his Mother to Maryland. He was made an American citizen in February of 2003.
Adu's love for football began at a very early age, and during his youth in Ghana he was already playing against men three times his own size and getting the better of them.
This trend continued when he moved to the States, with a local coach taking notice of his talent soon after his arrival and pitting him with players several years older.
At not much older than 13, Freddy Adu began to make a name for himself whilst attending the IMG Academy – a dedicated sports boarding school.
Adu's ascent to Pro football…
In 2004, at the age of 14, he had become the youngest American to sign a major league contract in any sport, when D.C United named him their No1 pick in the 2004 MLS SuperDraft, and subsequently secured his signature for that season.
He would break another record and become the youngest player ever to appear in United States professional sports, when he made his debut for D.C United as a second-half substitution against the San Jose Earthquakes in their first match of the 2004 season.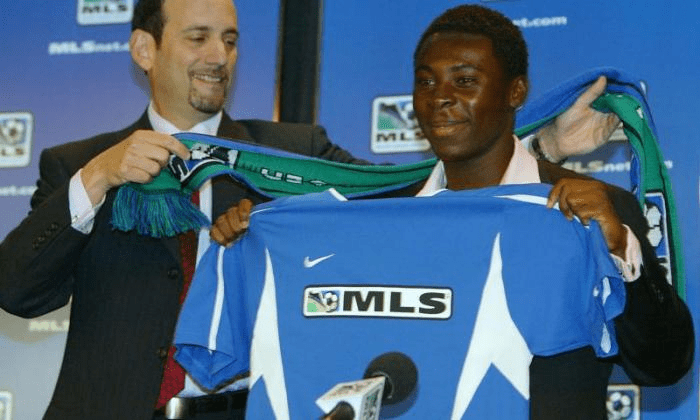 Adu got off to a good start with D.C, and once again continued his record-breaking ways when he scored his first goal for them on April 17th against the Metrostars. This goal made Adu the youngest player to score in MLS ever, and his reputation began to grow rapidly.
Adu even had a 2-week trial with Manchester United in 2006, at the age of 17, but was not able to gain a work permit and thus nothing became of it.
During his time at IMG Academy, Adu had also become a part of a U.S Olympic Development Programme, which saw him play for the United States in 5 international youth tournaments – the 2003 FIFA U17 World Championship, the 2003 & 2005 FIFA World Youth Championships, the 2007 FIFA U20 World Cup, and the 2008 Summer Olympics.
Adu not only captained the USA national side during their qualification of the 2007 U20 World Cup, but also became the only player to have played 3 FIFA U20 World Cups in doing so, as his popularity began to peak.
He scored a hat-trick against Poland in a group stage match of that tournament, which also made him the only player to have scored a hat-trick in both U17 and U20 FIFA World Cups.
The following year, Adu also made solid contributions to the national side's qualification for the 2008 Summer Olympics – scoring 4 goals in 3 games and being named as one of the tournament Best XI.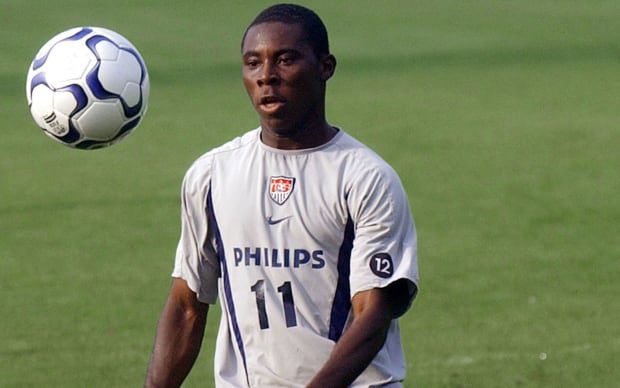 He naturally went on to be named one of the 18-man squad that the U.S would take to the 2008 Summer Olympics, but sadly things did not go as smoothly for Adu or his country in the tournament itself as they had during their qualification.
Despite a bright start, lending an assist in one of the opening group stage games, Adu, as well as his teammate Michael Bradley were suspended for their final match against Nigeria, and their side were knocked out of the tournament after being bested by them.
Whilst making his impression for the USA National Youth side, Adu had also made history by becoming the youngest player to have appeared for their first team when he came on as an 81st minuted substitution in a friendly match against Canada.
That match took place on the January the 22nd, 2006 – with Freddy Adu being 16 years and 234 days old.
Adu went on to make his first start for the USA first team in a friendly match against South Africa on November the 17th 2007, when he was 18.
He also made appearances in both 2010 World Cup qualifiers against Barbados in 2008, providing an assist, and scored his first international senior team goal from a free-kick against Guatemala in another qualifier for the same tournament, at the age of 19.
Where did it go wrong for Freddy Adu?
So, given his extremely promising start within the world of professional football and all the hype around him, why is it that Freddy Adu's name didn't make it alongside the likes of Messi, Ronaldo and other such superstars of today's game?
For all of the noise around Adu's future in the sport, the career of a player once tipped to be "the next Pele" degraded into something almost reflective of a journeyman's story, with the young superstar eventually bouncing between several minor sides before taking a break from the game altogether.
Much of the decline in his career was tipped to be as a result of his extremely young age, with Adu himself saying in an interview that he found it hard to find common ground with his teammates, who were often a decade older than him.
During his first stint with D.C United, he was also one of the highest paid players in MLS, and had a $1 million contract with Nike on top of this. Such fame and fortune at again, a very early age, has also been hinted at being a part of his eventual fading away.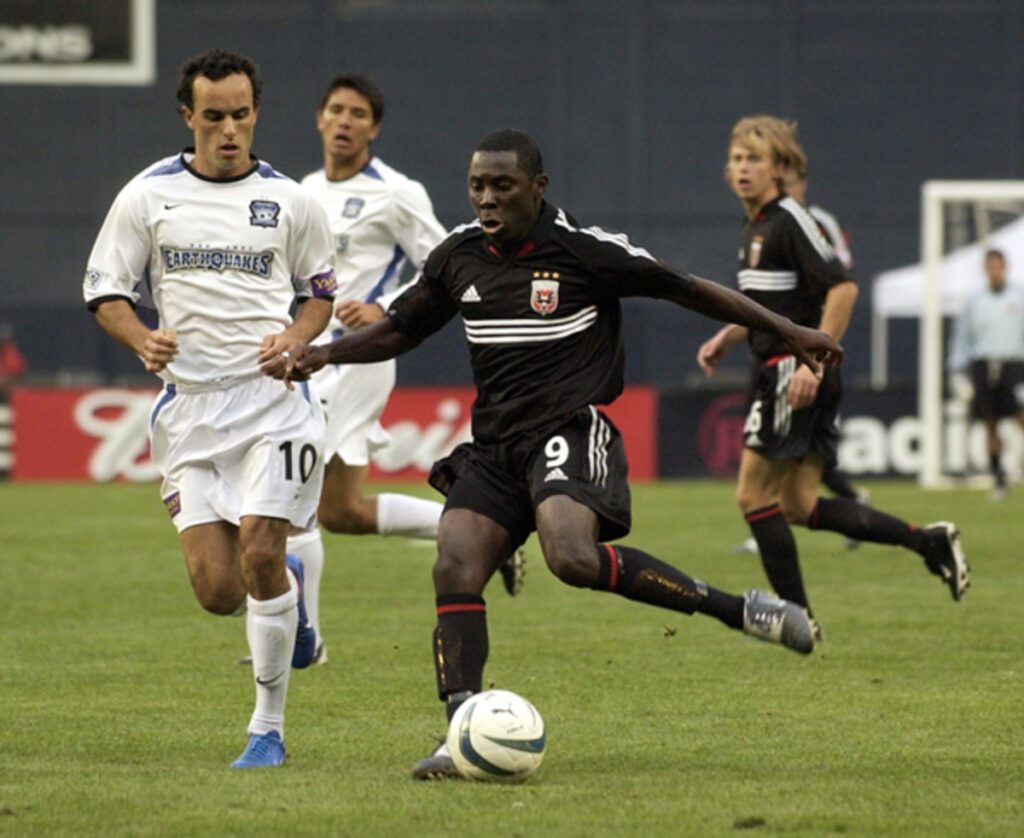 Things were going well for Adu in his early years on an international level, as well as in his beginnings with D.C United.
However, his starts were becoming fewer for the MLS side and his performances not as dazzling as they were in his debut showings, leading to his first move.
He was traded in 2006 to Real Salt Lake alongside goalkeeper Nick Ramando. Adu played the full 90 minutes of his debut for Real Salt Lake in April of 2007, with his first goal coming for the side over a full month later via a penalty kick against FC Dallas.
This would be his only league goal for Real Salt Lake, however, and his time with the club would come to a premature end in July of 2007.
On the 28th of July 2007, Freddy Adu opted out of playing for Real Salt Lake in an MLS match, instead hopping on a plane to Portugal to negotiate a move to Benfica. Just 2 days later, Benfica announced that Adu had officially been transferred to the club.
Adu began his time in Europe well, scoring twice for the Portuguese side and making 14 appearances for them. His performances, however, began to take a dive, leading the club to loan him off to AS Monaco in July of 2008.
The deal was a season-long loan, with the option for Monaco to purchase Adu permanently at the end of the season. This was an option that the side chose not to take, with Freddy Adu making just 9 appearances and failing to score for them.
Benfica once again loaned him out to a Portuguese side for the following 2009/2010 season, this time to Belenenses. Adu made his first league start in Portugal on October 13th and made a further 2 appearances.
He had failed again to make an impression on his new side, and his loan was cut short in December of 2009.
Adu's next move came in January of 2010, a 12-month loan with Greek side Aris, making his debut on the final day of the same month, and providing an assist to a 90th minute goal.
He made 5 appearances for them in total, and managed to score his first and only goal in February against Ergotelis.
His stay with Aris would be yet another short one, with Adu being loaned out to Turkish Second Division club Çaykur Rizespor in February of 2011. He was named man of the match on his debut that same month in a 3-0 win over Orduspor.
He scored his first goal for them 2 weeks later against Gaziantep Büyüksehir Belediyespor. In total, Adu made 11 appearances for the club and scored 3 times – one of his happier spells since leaving Benfica.
His time with the Turkish side would again be short, albeit sweeter than with his previous sides, with his return to the American MLS coming in August of 2011.
Freddy Adu signed with Philadelphia Union, making his debut on the 13th against FC Dallas, and scored his first goal for them a month later against New England Revolution.
He seemed once again a happier player in his 2 seasons with Philadelphia Union, adopting his style to more of a left attacker rather than an out-and-out striker, and his performances reflected it.
He made 35 appearances for them and netted 7 goals, alongside several notable assists, but the deafening hype that he carried around him at the age of 16 had disappeared somewhat in his 4 years travelling abroad on loan deals.
Despite gaining some of his old traction back in the MLS, Adu chose to sign with Brazilian side Bahia in April of 2013, saying that his style of play was "always compared to a Brazilian".
This move didn't go well for the once prominent young star, and he was released by the club in November of the same year after making 2 appearances and scoring 0 goals.
This left Freddy Adu without a team, and he began a series of trials for teams around Europe in the hopes of once again finding a home to play his football.
These started with a stint training with Blackpool FC in February 2014. The club decided not to take Adu on, but allowed him to continue training with their squad to aid his fitness.
In June of that same year, he began training with Norwegian side Stabæk, who were managed by former U.S National team coach Bob Bradley. There was no contract offered to him with Stabæk, but Adu was offered a trial with Dutch side AZ Alkmaar the following month.
Sadly for the once prominent young baller, AZ Alkmaar also failed to offer him a contract, leaving him with diminishing hope of playing in Europe.
Despite these set backs, Adu finally signed with Serbian side FK Jagodina on July the 24th, 2014. He signed a year and a half contract with the club, making his debut for them in September that year.
This would be in a Serbian Cup match against FK BSK Borča, and it would also be his only first team appearance for them, as the fate of his career looked ever worse.
He was released by the club in December of the very same year he signed with them.
His next venture in 2015 faired no better, with Adu himself using a termination clause in his contract with Finnish side Kuopion Palloseura after just 4 months, whilst playing for their reserve side in the Finnish Third Division.
Freddy Adu would once again head back to the United States in order to play his football, signing for Tampa Bay Rowdies in July of 2015. This was his 12th professional club, and it wouldn't be his last.
He played with Tampa Bay Rowdies for the 2015/2016 MLS season, making 12 appearances but scoring no goals. He was released by them at the end of the season.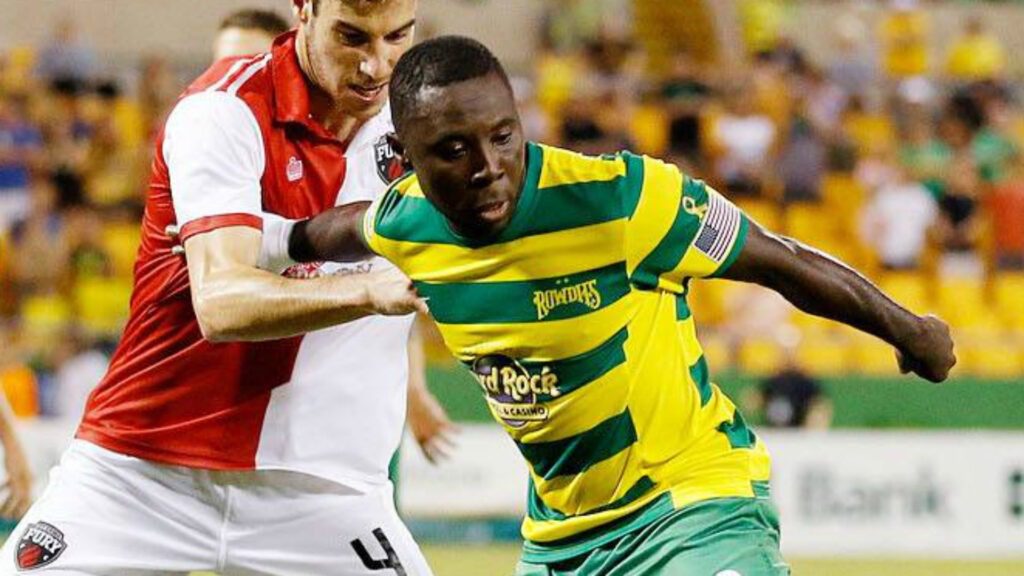 Adu next went on trial for Portland Timbers in preparation for the 2017 season, but they, as had so many others in his previous years, failed to offer him a contract.
This happened again when he went on trial with Polish side Sandecja Nowy Sacz in August of that same year.
Adu eventually found a home with USL Championship (USA 2nd division) side Las Vegas Lights FC in March of 2018, but this was on a trial basis.
His first match for them was against his old side D.C United, and to Adu's delight he managed an assist against them in his 30 minutes on the pitch in what was eventually a 4-2 defeat on his debut.
He made a total of 14 appearances for Las Vegas Lights FC and even scored a goal, but was once again released at the end of the 2018 season.
At this point, Freddy Adu admitted defeat and took a hiatus from professional football, instead coaching youth football in Maryland.
After just 2 years, however, he made another attempt at rejoining the pros, joining Swedish 3rd division side Österlen FF in October of 2020.
In less than a month, however, the club declared that Adu was not physically or mentally fit enough to compete in the league, and terminated his contract.
Thus, at 14 professional clubs, the story of Freddy Adu's once extremely promising career comes to its end.
Astonishingly, the now 34-year-old does not consider himself retired from the sport, saying in an interview "I took a few years off after losing my love for football. Believe it or not, I'm thinking about getting back out there and playing. I'm still young enough".
Whether or not Freddy Adu will again take to the professional stage remains to be seen. It is a great shame that such a promising young career trailed off into bouncing around lesser sides in Europe.
Perhaps if things had gone differently during his rise to fame, we may have been talking about Freddy Adu in a very different light…