Charles Brodie, or 'Chic' Brodie, was a Scottish goalkeeper with over 300 appearances in the Football League before his career was bizarrely ended by a loose dog on the pitch!
Charles Thomas George Brodie was born in Duntocher, West Dunbartonshire, Scotland on the 22nd of February 1937.
Having grown up football mad, he found his calling as a goalkeeper, and began his youth career with Duntocher Hibernian.
In 1954, at the age of 17 he joined Football League First Division side Manchester City, playing as protege to German shot-stopper Bert Trautmann.
Perhaps due to the status of his German counterpart, Brodie struggled to get into the first team for City, and subsequently left in July of 1957 having made no appearances for them.
Brodie left Manchester, and the First Division, and joined Gillingham in the Third Division South that same month. He spent a single season with the club where he actually managed to play some football, making 22 appearances for them.
Chic Brodie left Gillingham for Fourth Division Aldershot in July of 1958, on account of being stationed in the town whilst completing his National Service. He remained with Aldershot until February of 1961, having made 106 appearances for the side.
Having completed his National Service in Aldershot, Brodie managed to make his way back into the English Top Flight by joining Wolverhampton Wanderers in February 1961 for a then-club record of £9,000.
Despite this record fee, he made just a single appearance for the club, departing the Molineux in September of the same year.
Chic Brodie would that month see himself sold to Third Division side Northampton for £4,000, but would have a seemingly better time with the club than he did with Wolves.
Brodie played a total of 87 matches for Northampton, winning a Third Division Championship medal in the 1962-1963 season before leaving the club in November of 1963.
Brodie's journey now took him to Brentford, having been sold for £10,000 that month.
He enjoyed over 190 appearances for the Bees between 1967-1970, having been their regular goalkeeper with the exception of an injury-riddled inaugural 1966-1967 season with the side.
He regained his first choice status in the 1969-1970 season, but sadly for the Scottish shot-stopper, things were about to take a terrible turn.
The dog that ended Chic Brodie's career…
On the 27th of November, 1970, during a match against Colchester United, players and fans alike witnessed one of the most bizarre pitch invasions seen in the Football League.
A large white dog found its way on to the pitch and proceeded to chase the ball as it was passed between players, with seemingly no attempt to stop the game or remove the pitch invader.
The ball eventually makes its way through Brentford's defence and into the hands of Brodie via short pass back, as the dog continues its pursuit.
The moment that the Scottish keeper picks the ball up, he is greeted with the flying mass of the animal, which collides headlong into his left thigh, leaving him crumpled on the ground.
It's 50 years since Chic Brodie's career was sadly ended in a freak incident with a dog.

He said: "The dog may have been small – but it just happened to be solid."pic.twitter.com/oHfF84jCK7

— The Blizzard (@blzzrd) November 28, 2020
The dog clearly sees that they have done wrong and scarpers, but it is too late for Brodie.
The impact from the loose canine had done severe damage to the ligaments in his left knee, leaving him unable to walk properly, let alone play football.
Although Chic Brodie soldiered on to provide Brentford with 5 more appearances during the second half of that season, his soon discovered his career had been ended through the injury and departed the club at the end of the 1970-1971 season.
Brodie had made 224 appearances for the Bees in his 8 seasons with them, and he was inducted into the Brentford FC Hall of Fame in 2015 in recognition of his time at the club.
Not Chic Brodie's first rodeo…
As if having a career ended through one of the most bizarre turn of events in English Football history wasn't enough, Chic Brodie had previously been injured whilst with Brentford after a fan hurled a stone at his knee!
An even more incredible injury was sustained by Brodie in the dying minutes of a game against Lincoln, when he hung on to the crossbar following a save, only for the crossbar to snap and land on him!
On another strange occasion, the goalkeeper even found a hand grenade in his goalmouth. Luckily for Brodie and the nearby fans, it was discovered to be a replica!
Despite his career-ending injury, Brodie never lost the bug for football. He continued to play in 1971 at a semi-professional level with Margate, who he remained with for 2 seasons before moving on to Wealdstone and Maidstone United.
Chic Brodie eventually hung up his gloves for good in 1975, and went on to become a London Taxi driver. He sadly passed in 2000 at the age of 63, after suffering from prostate cancer.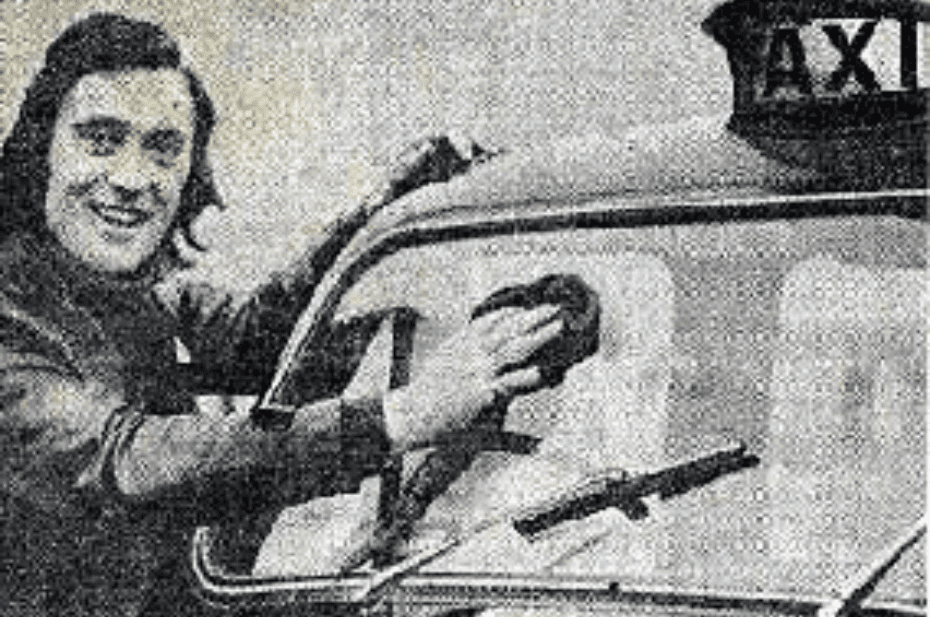 The story of his career (or at least the end of it) lives on as one of the most bizarre in footballing history, and he remains to this day a legend at Brentford FC. Rest in peace, Chic Brodie.