Lionel Messi has once again given Argentina fans a reason to get excited about a World Cup, with his insane free kick beating Ecuador 1-0 in their first qualifying match!
Qualifiers for the 2026 FIFA World Cup are underway, and Lionel Messi has produced some magic already, delivering a wondrous free kick to beat Ecuador 1-0 in the 78th minute of their opening qualifier.
The 23rd edition of FIFA's infamous International tournament will be hosted by 16 cities across North America, Mexico and Canada.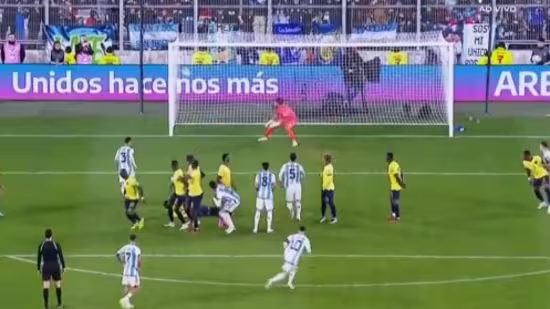 The South American edition qualifying matches began yesterday with Paraguay vs Peru, with the second instalments coming today in the form of Argentina vs Ecuador and Columbia vs Venezuela.
Fans have so far only been treated to 2 goals across the 3 games – but Lionel Messi's contribution to those 2 once again showed his quality to supporters worldwide.
Columbia managed a 1-0 victory over Venezuela, with Paraguay and Peru ending in a deadlocked 0-0. Argentina's matchup with Ecuador looked like it could well be another goal-less addition, then entered Lionel Messi…
In the 78th minute of the match, Argentina were awarded a free kick on the edge of the box, very much in Messi's territory.
The Inter Miami star's strike was so good, Ecuadorian keeper Galindez never even moved off his spot.
WATCH THE FREE KICK BELOW! 👇
See the goal from different Angles

Messi is the goat 🐐 pic.twitter.com/LG423Io6RG

— Captain Abbey (@akindeleabiodu4) September 8, 2023
This incredible finish from Messi has secured Argentina the ideal start to their FIFA World Cup 2026 Qualifiers, placing them at the top of the table with Columbia – albeit with many games left to play.
In tomorrow's South American fixtures, Uruguay take on Chile and Brazil face Bolivia as the Canarinha look to make their stamp on the tournament.
When are the next 2026 FIFA World Cup qualifiers?
Fans will have to wait until the 12th before the next instalments of the South American Qualifiers take place, when Argentina take on Bolivia, Ecuador play Uruguay, and Venezuela face Paraguay.
The European qualification rounds for the 2026 FIFA World Cup won't begin until March of 2025, with the next set of matches being that of CAF (Confederation of African Football), beginning in October this year.
Next will be the AFC (Asian Football Confederation) matches in November of this year, followed by the CONCACAF (Confederation of North, Central America and Caribbean Association Football) qualifying matches which will begin in March of 2024.
The OFC (Oceanic Football Confederation) qualifying rounds will begin in September of 2024, with the European fixtures being the last to take place for the 2026 FIFA World Cup tournament.