The World Cup is something that modern football fans take for granted as part and parcel of the sport, but it had to start somewhere. This is the story of Jules Rimet – the man who made it happen.
Jules Rimet was born in Eastern France on the 14th of October, 1873. He moved to Paris with his family in 1884 at the age of 11, and grew up to become a lawyer.
In 1897, Rimet started a sports club called Red Star. The beautiful game was just one of many games played at the club, which was renowned for not discriminating against members on the basis of class.
This was a standout feature during what was an altogether different time in the late 18th century.
FIFA is born…
Football became a popular sport at the Red Star club and, 10 years on from its creation, Rimet would become involved in the founding of the Fédération Internationale de Football Association – FIFA.  
There was immediate interest from Rimet, as well as others within the organisation, to organise a global professional tournament of football.
This didn't come to fruition right away, however, with FIFA being involved with running an amateur tournament as a part of the 1908 Summer Olympics as their first major project. 
Enter WW1…
Rimet's dreams for a professional global championship would be dealt an even larger blow following the Summer Olympics tournament.
The complicated and increasingly tense political landscape, that was eventually winding its way to bringing about the start of World War One, would stifle any hopes of a football tournament to bring together the nations of the world.
Rimet would serve in the French Army as an officer during the war, and would eventually be honoured with a Croix de Guerre for his bravery and service. 
A return to football…
Following the war, in 1919, Jules Rimet would be become President of the French Football Federation. Just 2 years later, he would become the President of FIFA also.
Rimet continued to push for his world tournament following his appointment as FIFA President, but would again be met with resistance.
Numerous amateur football associations would be opposed to Rimet's plans, as well as Pierre de Coubertin, founder of the International Olympic Committee. 
Although many factors were involved in this resistance, most opposition came from the logistics involved in arranging for scores of national teams and their fans to join in one country to participate. This was, after all, at a time when commercial air travel was newly born, and both extremely expensive and often uncomfortable. 
The national teams in the early 1900s didn't have the enormous amounts of funds that they do today, and so the reality of a world tournament at that time would have been a remarkably expensive endeavour for all involved. 
The World Cup is born…
Despite the pushback and the complications involved in arranging his world tournament, Jules Rimet and like-minded colleagues at FIFA continued to work towards their vision. In 1928, under Rimet's leadership, they would plan the very first World Cup.
The tournament would be held in Uruguay in the summer of 1930. This decision was in part due to the level of the professional game in South America at the time, as well as Uruguay's pledge to cover all travel costs for the tournament. 
13 nations entered.
Argentina, Brazil, Bolivia, Chile, Mexico, Paraguay, Peru, Uruguay, and USA representing the Americas.
Belgium, France, Romania, and Yugoslavia, eventually representing Europe. But not without some persuading…
Twisting elbows…
Due to the high costs of an oceanic travel (even without the travel costs themselves), and the length of time players would be away from domestic leagues, there was practically no interest from European nations to take part in the World Cup in Uruguay.
By the February deadline, no European entries had been received.
In an attempt to turn this around, the Uruguayan Football Association sent a letter of invitation to the Football Association.
This was despite the fact that the British Home Nations (England, Wales, Scotland & N'thern Ireland) had resigned from FIFA at the time. The invitation was rejected on 18th November 1929 by the FA Committee. 
There were still no European nations set to attend the inaugural World Cup with two months left before it kicked off. 
Enter Jules Rimet. 
With Rimet's intervention, 4 European nations agreed to make the trip to Uruguay to participate.
They were Belgium, France, Romania and Yugoslavia. 
Rimet would commute to the tournament on the SS Conte Verde along with the competing European teams, reportedly carrying the World Cup trophy in his travel bag as they made their way to Uruguay to create history.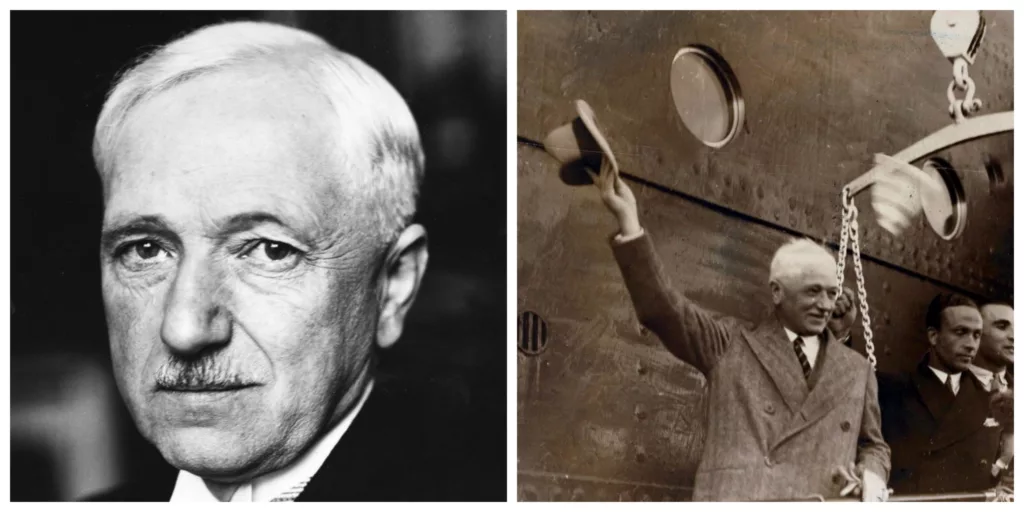 It had taken 23 years of FIFA's creation, by they had arranged a World Cup.
World Cup 1930…
The 13 participating teams were split into 4 groups, numbered 1 through 4. These were 3 groups of 3 teams, and 1 group of 4 teams.
The groups looked as follows:
Group One
Argentina, Chile, France and Mexico
Group Two
Brazil, Bolivia & Yugoslavia
Group Three
Uruguay, Peru & Romania
Group Four
Belgium, Paraguay & USA
One team would go through from each group, with semi-finals being played, before the Final and a Third & Fourth place playoff.
Semi-finals…
Argentina topped Group One, and would play their semi-final against Group Four winners, USA.
Yugoslavia topped Group Two to earn the right to play hosts, Uruguay in their semi-final.
Argentina stormed through the USA, winning 6-1 in a semi-final that didn't take long to become violent, with American midfielder Raphael Tracy being stretchered off after 10 minutes with a broken leg.
Uruguay's match with Yugoslavia remarkably garnered the same scoreline as Argentina vs USA. The hosts won 6-1 in a back and forth match that wasn't without it's controversial decisions and strong tackles.
First-ever World Cup Final…
A South American matchup between Argentina and Uruguay in a World Cup Final sounds like an exciting affair, and the first-ever did not disappoint. 
10 boats were set to carry Argentine fans from Buenos Aires to Montevideo, and it was quickly apparent that they were insufficient. Crafts of any kind were used to cross the river as an estimated 15,000 Argentines made the journey, chanting the war cry "Victoria o muerte" (victory or death). 
Argentine midfielder, Luis Monti, had even received death threats the night before the match.
Belgian referee, John Langenus, agreed to officiate just hours before the match, after seeking assurances that a boat would be ready for him in the harbour within an hour of the final whistle in order to ensure his safety if required.
At the Estadiao Centenario, gates were opened 6 hours before kickoff, in order for security to search the throbbing masses for weapons. The attendance that day was 93,000 in total, as the two sides prepared for battle on the pitch.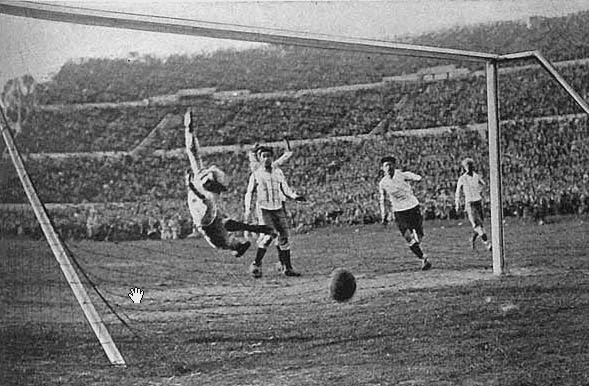 Tensions rose in the build up to kickoff, as the two squads argued over which team would provide the match ball. This forced Jules Rimet and FIFA to intervene, and led to an agreement that Argentina would provide the ball for the first half of the game, and Uruguay for the second.
The hosts had scored the opening goal and had Argentina score to equalise within the first 8 minutes of the game.
Guillermo Stábile gave Argentina a 2-1 lead shortly before half time, with protests flooding in from Uruguay for an alleged offside. 
A strong second half for the host nation saw them equalise, before netting 2 more crucial goals in this inaugural World Cup Final. 
They won the match 4-2, and were awarded by Jules Rimet the trophy that had travelled all the way across the ocean in with him.
The trophy that had seen his dream of a professional international tournament come true – The World Cup Trophy.