After three decades of dominating the football gaming landscape with the FIFA franchise, the long-standing partnership between EA Sports and FIFA has reached its end.
FIFA 23 marked the final installment in the immensely popular video game series, as EA Sports now embarks on a new journey with its own football gaming series called EA Sports FC.
On July 13th, EA Sports provided fans with the first official glimpse of EA Sports FC 24, the company's inaugural football game post-FIFA.
The reveal livestream showcased exciting developments for this fresh era, with EA announcing the inclusion of female players in the Ultimate Team mode for the first time.
This means that beloved women's football stars like Alessia Russo and Beth Mead can now be added to the game's most popular mode, allowing players to create diverse and inclusive teams that feature both male and female players.
While FIFA has gradually introduced women's football leagues in recent titles, the integration of female players into Ultimate Team is a significant milestone for the franchise and a testament to the growing popularity and recognition of women's football.
It signals EA Sports' commitment to providing a more comprehensive and representative football gaming experience.
In addition to the inclusion of female players, EA Sports FC 24 also introduces a new mode called Ultimate Team Evolutions.
This mode enables players to level up individual players by completing specific objectives. It adds a new layer of progression and customization to the game, giving players more control over the development of their virtual squad.
EA Sports FC 24 is set to be officially released on September 29th, with Manchester City's Erling Haaland gracing the cover.
The game will be available in two different editions, both of which are currently open for pre-orders. Fans can expect a range of exciting features and improvements, promising an enhanced football gaming experience.
For avid gamers and football enthusiasts alike, the transition from FIFA to EA Sports FC marks a significant turning point in the virtual football landscape.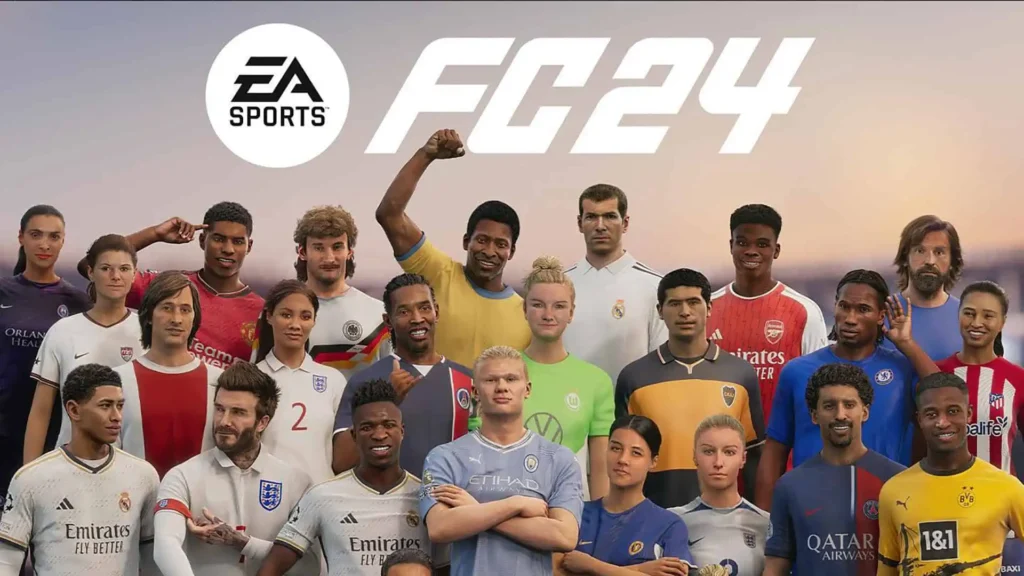 With the inclusion of female players in Ultimate Team and the introduction of the new Ultimate Team Evolutions mode, EA Sports is striving to create a more inclusive, immersive, and engaging gaming experience for players of all backgrounds.
As the September release date approaches, fans eagerly await the opportunity to embark on their virtual football journeys with EA Sports FC 24.
The game's promise of innovation and progress suggests that the new series has the potential to captivate and entertain players, continuing the legacy of EA Sports as a leading force in the world of football gaming.
Can I pre-order EA Sports FC 24 now?

By pre-ordering the standard edition of EA Sports FC 24, you can enjoy some exciting bonuses that accompany your purchase.
This edition includes the base game itself, along with several additional perks. These include a cover star loan player item, allowing you to use Erling Haaland in your squad for 10 games.
Moreover, you'll receive a male and female ambassador loan item, granting you the opportunity to utilize these players in five matches each.
PRE-ORDER EA Sports FC 24 HERE (Amazon)
In addition, the standard edition offers the new playstyles slot in clubs, providing enhanced versatility in your gameplay. Furthermore, extra personality points are available in player career mode, allowing you to further customize and develop your virtual footballer.
Lastly, you'll have the advantage of a five-star coach in Manager Career mode, adding expertise to your managerial endeavours.
With these added features, your gaming experience is set to be even more thrilling and immersive.
Which platforms is EA Sports FC 24 on?
EA Sports FC 24 is compatible with various platforms, including PC, PS4, PS5, Xbox One, Xbox Series X/S, and the Nintendo Switch. It is currently available for pre-order at retailers such as Amazon.
PRE-ORDER EA Sports FC 24 HERE (Amazon)