Spain & Barcelona legend Andres Iniesta is set to leave his current club, Japanese J1 side Vissel Kobe, after making just 3 appearances!
Iniesta is arguably one of the greatest technical midfielders the game has ever seen, forming a powerhouse duo with countryman Xavi in his time at Barcelona. In his impressive 16-year stint at the Nou Camp, he made 674 appearances.
Despite being a playmaker rather than a striker, Iniesta bagged himself 57 goals, and was responsible for well over 140 assists. He was also part of the Barcelona squad that won the historic trebles of La Liga, the Copa del Rey, and the Champions League in 2009 and 2015.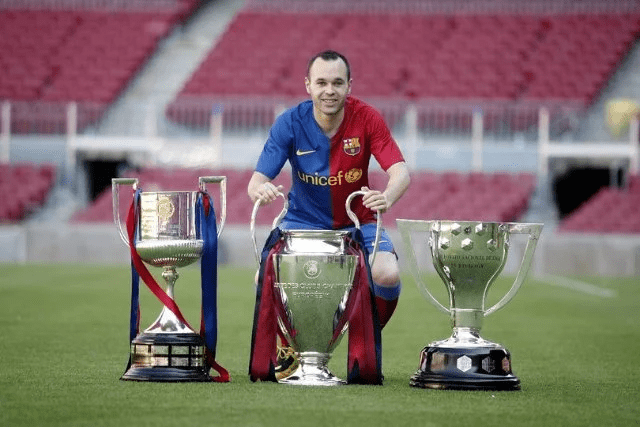 In total, the midfield maestro has won 9 La Liga championships, 6 Copa del Rey titles, 7 Spanish Super Cups, 4 Champions League trophies, 3 UEFA Super Cups, 3 FIFA Club World Cups, and a FIFA World Cup.
Iniesta joined Japanese J1 side Vissel Kobe in 2018, at the age of 36. The Spanish star saw a great deal of action in his first 5 seasons with the club, making 110 league appearances and scoring 21 goals with 22 assists between 2018 – 2022.
He was also involved in winning Japan's domestic Emperor's Cup in 2019, and then the Japanese Super Cup the year after.
News has now emerged, however, that Iniesta will be taking his talents elsewhere, having made just 3 substitute appearances for Vissel Kobe all season.
The footballing legend insisted that choosing to leave the Japanese side was "one of the hardest decisions of my career".
He went on to add "I always thought I would retire here, but things haven't gone as I wanted them to. For the past few months I've trained hard with the intention of contributing to the team, but I start to feel that the coach had different priorities."
Where Iniesta will take his midfielding talents to next is currently uncertain, although the Spaniard has insisted that he has no plans to retire immediately.
His words regarding his future were "I want to finish my time here properly and then see what options are available to me"
"I want to keep playing and then retire while I'm still active. That's difficult for me to do here, so I want to find a place where I can eventually retire."