This year marked the 10-year anniversary of one of football's most heart-wrenching scenes – Fabrice Muamba's on-pitch heart attack against Tottenham Hotspur in the 2012 FA Cup quarter-finals.
Who is Fabrice Muamba?
Fabrice Ndala Muamba was born in Kinshasa, Zaire (now the democratic republic of Congo) on the 6th of April 1988, to parents Marcel and Gertrude.
Marcel Muamba fled his home country in 1994, fearing that his political views would bring violence to him and his family. He arrived in the United Kingdom seeking asylum, and in 1999 was granted indefinite leave to remain in the UK, with his family joining him that same year.
The family settled in East London, with Fabrice attending Kelmscott School in Walthamstow. Despite arriving in Britain unable to speak English, the young Fabrice would go on to achieve 10 GCSE & A-level qualifications in English, French and Mathematics. At an early age, he showed a fantastic academic mind and proved to the world that he would not let anything hold him back from bettering his future in his newfound home of England.
Professional Career
His professional footballing career also reared its head early for the youngster, with an association with Arsenal's youth program beginning when he was still a schoolboy, in 2002. He would eventually go on to join the Arsenal academy as a first-year scholar in 2004.
Fabrice signed his first professional contract in October 2005 for the Gunners, making his first-team debut on the 25th of October in a cup tie against Sunderland, in front of a 47,000-strong crowd at The Stadium Of Light. His first appearance with Arsenal saw them dispatch Sunderland 3-0 to move on to the next stage of the cup, against Reading.
He played the next match against Reading, contributing to another 3-0 victory and marking his second first-team appearance for Arsenal – although this would also be his last.
Having made no other appearances for the Gunners, Fabrice would join Championship side Birmingham City on a year-long loan in 2006.
After a slow start with the club, he became a regular feature in the centre of midfield, with his energetic style of play being likened to his childhood hero, Patrick Vieira. He was bestowed with the "young player of the season" award for his contributions in his opening season with Birmingham, and he was quickly becoming well-thought-of by their fans as his performances continued to grow in strength.
On May the 11th 2007, Muamba made his move to Birmingham City a permanent one – signing a 3-year contract for a reported fee of 4 million pounds.
His first goal for the West Midlands side came on the 12th March 2008 against Portsmouth, by way of a close-range volley, struck in from a corner kick. Birmingham would lose this match 4-2, but a glimmer of what Fabrice was capable of was present for the fans in attendance and showed great promise for his professional career.
He made 37 appearances for the club in his time with them, seeing them both promoted into the Premier League and then demoted back down to the Championship once again during this time.
Following Birmingham's re-relegation, Fabrice would make a move to Premier League side Bolton Wanderers for the 2009-2010 season. His deal with the club was a 4-year one, with a reported fee of 5 million pounds plus add-ons worth up to £750,000!
His first goal for the Wanderers came in March 2010 against Wigan Athletic. The rest of his opening season with the club would garner the attention of management, players and fans alike – with Fabrice being named the "The Bolton News player of the season" for his efforts in Bolton's 2009-2010 Premier League campaign. This was soon followed up with another 4-year contract to stay with the club, being signed on the 7th of August 2010.
Muamba would continue to impress at Bolton Wanderers, scoring on the opening day of the 2011-2012 season in a 4-0 victory over Queen's Park Rangers, as well as scoring his first-ever league cup goal against his former club, Arsenal, later on that season.
The incident: 17th March 2012
Fabrice Muamba was now officially flying high – making regular appearances for Premier side Bolton (and making a huge impact when he did) and having a beautiful wife and 3-year-old son at home. It looked as if he could do no wrong.
Enter the 17th of March 2012. Bolton make the journey down south to White Hart Lane, to take on Tottenham Hotspur in the FA Cup quarter-finals.
The match is a close contest, with the sides nearly seeing out the first half of the game deadlocked at 1-1. There are 5 minutes left before the whistle will blow for the halftime break.
Tottenham's Gareth Bale charges down the left flank to mount an attack on Bolton's defense, when referee Howard Webb blows the whistle to cease play for a Bolton player who is grounded further back down the pitch. It was Fabrice.
The then 23-year-old had, out of nowhere, fallen face down to the ground in front of the 35,000-plus crowd. He did not extend his arms to break his fall. He did not struggle to find his way back to his feet. Something was seriously wrong.
So alarming was the way in which Muamba went down, that medical staff did not wait for the referee's whistle to blow before racing onto the pitch to tend to him – something that may well have saved his life.
17 minutes go by, with medics trying desperately to use CPR techniques and a defibrillator to get the young player's heart beating again. It was reported afterward that Fabrice was "effectively dead" for 78 minutes that fateful day.
Players stood with morbid horror written all over their faces. Fans did what they could, in the form of collectively cheering, shouting and praying for Fabrice to pull through. Chief football writer of The Bolton News, Mark Iles, described it as:
"a guttural noise that I had never heard from a football crowd before or since, the sound of 35,000 plus people actually willing someone to live."
With no success in reviving the young midfielder – medics, accompanied by Bolton manager Owen Coyle and team Captain Kevin Davies, rushed him into an ambulance, bound for the coronary care unit of London's Chest Hospital.
Howard Webb abandoned the match, with no contest from fans or players of either team, and the footballing world stood with bated breath, waiting to hear whether the young starlet was going to pull through. Bolton's following game against Aston Villa (to be played 3 days later) was also postponed – again, with no complaint from either team.
Muamba received 12 defibrillator shocks during that ambulance ride, on top of numerous shocks pitch-side, as medical staff fought a seemingly-losing battle to save his life. As the day rolled into night, the chances of Fabrice making a recovery looked shockingly low, according to those who were caring for him. He was being kept under anesthesia in the intensive care, but by midnight that night, it was not expected that he would recover.
As the following day came and football fans waited to hear the inevitable – that they had lost one of their own – a glimmer of hope came as Fabrice's heart started to show signs that it may well be coming out of the arrest it had been in since the match the day before.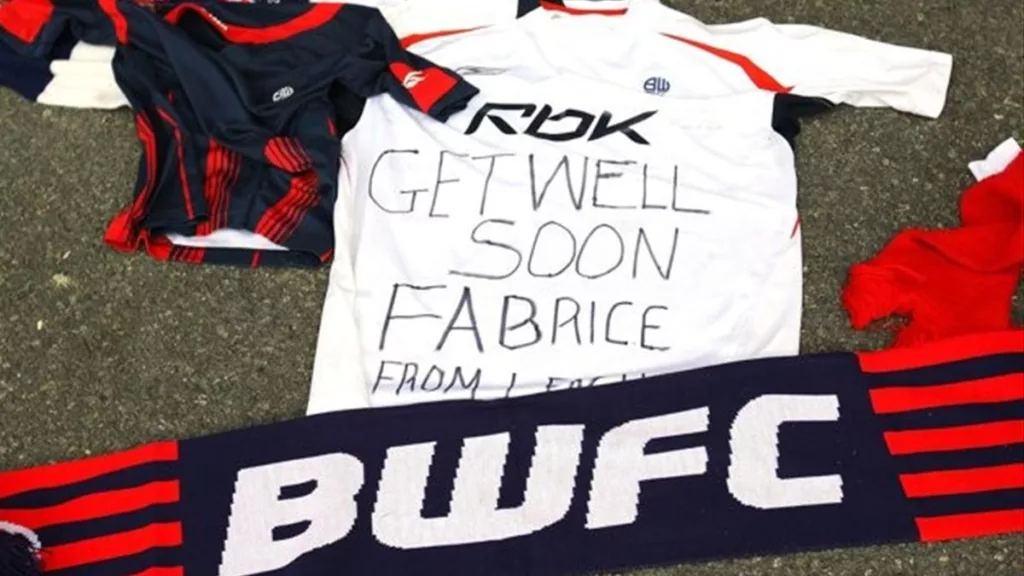 Recovery.
By the 19th of March, just 2 days after his collapse, his heart was able to beat again without the assistance of medication and he was reported as being able to move his limbs and answer questions coherently. His condition was described by his medical team as "serious" rather than "critical", with professionals keeping a close eye on the Bolton player as he started to show signs of recovery.
By the 21st of March, his consultant suggested that Muamba's progress had "exceeded our expectations" and despite facing a "lengthy recovery period, normal life is within the spectrum of possibility."
Two weeks later, a photograph emerged of Fabrice sitting up in his hospital bed and smiling, with his family around him.
He was discharged from hospital on the 16th of April – 28 days since his nightmare ordeal. He had been fitted with an implantable cardioverter-defibrillator (ICD) to prevent any other irregular beats to cause him to cardiac arrest again. Fabrice was able to attend Bolton's home game against Tottenham on the 2nd of May, whereupon he was greeted with a thundering standing ovation and took the opportunity himself to thank all of the players, medical professionals and fans for their input in aiding and supporting saving his life.
Aftermath.
On the 15th of August 2012, Fabrice Muamba retired from professional football, following advice to do so from his medical team. it was discovered that the cause of his collapse was Hypertrophic Cardiomyopathy (HCM) – a condition in which the heart muscle cells enlarge and the walls of the heart chambers thicken, leading to increased risk of blood clot, stroke and other cardiovascular complications.
Muamba said, after a consultation with his medical team:
"Since suffering my heart attack and being discharged from hospital, I have remained utterly positive in the belief I could one day resume my playing career and play for Bolton Wanderers once again. As part of my ongoing recovery, last week I travelled to Belgium to seek further medical advice from a leading cardiologist. But the news I received was obviously not what I had hoped it would be and it means I am now announcing my retirement from professional football. Football has been my life since I was a teenage boy and it has given me so many opportunities. Above all else, I love the game and count myself very lucky to have been able to play at the highest level. While the news is devastating, I have much to be thankful for. I thank God that I am alive and I pay tribute once again to the members of the medical team who never gave up on me. I would also like to thank everyone who has supported me throughout my career, and the Bolton fans who have been incredible. I am blessed to have the support of my family and friends at this time."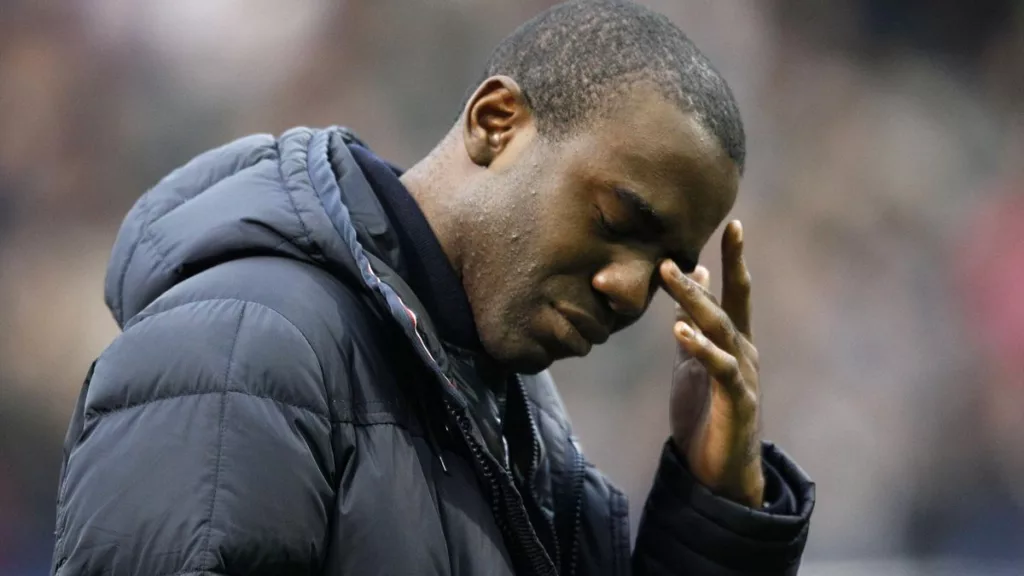 Sadly, this wouldn't be the last time that the condition would affect Fabrice or his family – His three sons, Joshua, Matthew and Gabriel, were all scouted by Liverpool's youth academy, hoping to follow in their father's footsteps as professional footballers.
Sadly, it has been discovered that ALL THREE BOYS have inherited the faulty gene that causes HCM from their Father, as reported in an exclusive interview with Hello Magazine in March of 2022.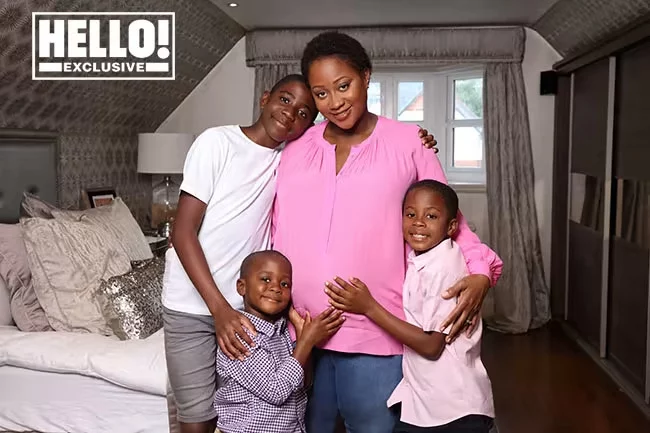 Having discovered this news, the difficult decision was made to pull all 3 of Fabrice's sons from professional football, in the hopes of avoiding the brush with death that he himself endured all the way back on that fateful day in 2012. 
Silver Linings.
Fabrice's incident, despite nearly costing him his life and impacting his family, has had a positive impact on football's recognition and preparation for such incidents.
Cristian Erikson's collapse in the 2020 Euros against Finland being an example of how much more prepared we are as a sport for such incidents, and the positive impact this has on the ability to save lives and prevent such disasters from occurring in the future.
Defibrillators have also been installed in public areas all over the UK since 2012, many of which are due to Fabrice's campaigning to raise awareness of unseen cardiac issues and the importance of having the equipment, knowledge and preparation available to increase the chances of saving people's lives who suffer from them.
Having a defibrillator present takes the chances of someone surviving a public cardiac arrest from 28% right up to 80% – meaning that his work alongside the London Ambulance Service of getting these devices in and around more public places is literally saving lives, still to this day.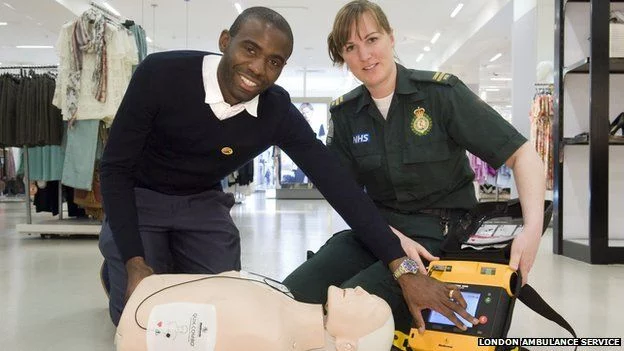 Muamba said regarding the campaign:
"If it wasn't for the defibrillator I wouldn't be here today"
"I was lucky. I had my cardiac arrest in the best place with the best medics around to help me"
"I want everyone who goes into cardiac arrest to have the same chance as me and that's why I'm supporting the London Ambulance Service campaign"
Where is Fabrice Muamba 10 years on?
Following his retirement, Fabrice was part of ITV's coverage of the 2013 African Cup of Nations, as well as appearing as co-commentator alongside Derek Rae on BT sport's coverage of the African World Cup Qualification third-round playoffs. 
This seemed to light a journalistic spark within the recovering Fabrice, as he studied for a BA in Journalism at Staffordshire University, attending a work placement at BBC North West Tonight as a part of his course. He graduated with honours in July 2015.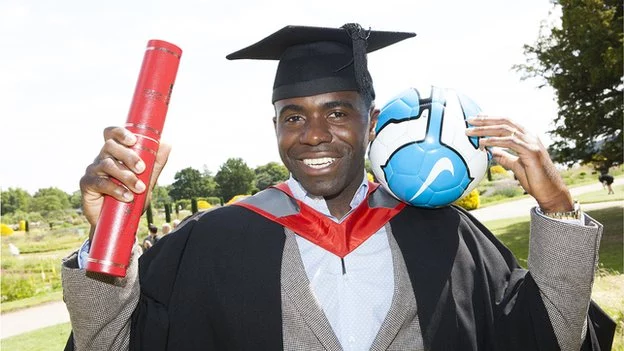 In March 2015, Muamba had also taken up some coaching sessions at Liverpool's academy. In September 2018, he coached Rochdale's U16 side whilst studying for his coaching badges.
In March 2022, he was reported to be hopeful of making a return to Bolton Wanderers as an academy coach – on May 14th, 2022, this return was confirmed! After a terrifying, career-ending ordeal, Muamba was back at Bolton FC and enjoying the sport he loved.
Despite the terrifying ordeal, Fabrice would once again grace the pitch with his presence. He played 15 minutes in Ian Goodison's testimonial match in 2015 at Prenton Park.
A magnificent & promising young talent who nearly had it all taken away in one afternoon – It is amazing to see such a talented, loving and hard-working man like Fabrice go on to do such amazing things for himself, his family and the public after having gone through such an experience.
It is a testament to his character that at no point did he allow such a life-altering experience (nor a heart-altering gene) to affect his ability to better himself and do good in the wider world, despite being unable to continue down his dream path of being one of the best professional footballers out there.
We at Football Post would like to also give huge credit to all of the first responders and medical staff who worked tirelessly to save Fabrice's life, as they (and their peers) do for everyone who comes into their care each and every day of dedicating their lives to helping others.