There is no debate that, when it comes to the Premier League squads, we are treated to a HUGE array of talent.
Every now and again, a team just has that special kind of magic – that indescribable, world-beating quality that allows them to go on and create Premier League history during their campaign.
This, naturally, creates a huge debate between fans as to who truly had the BEST team in the league's history and who would win if you were to match those teams against one another today!
We have for you below some of the most famous, utterly devastating Premier League squads and we want to know YOUR THOUGHTS on which one was truly the best that the Premier League has ever seen by casting your vote at the bottom!
Manchester United – 1998/1999
1998/1999 was Manchester United's 7th season in the FA Premier League since its conception in 1992. It was also their 24th consecutive season in the English Top Flight.
Having ended their previous season with no titles to their name, Sir Alex Ferguson's Man United would go on to win the infamous "treble" of the Premier League, FA Cup, and Champions League during their 1998/1999 campaign. They are to this day the only team to have done so.
During this now infamous season, United only lost 5 games in total, with just 3 of those defeats being dealt to them in the Premier League. Their triumphant season was one characterised by comebacks, with big wins in the FA Cup fourth round against Liverpool and the Champions League semi-finals against Juventus both coming from late efforts from the Red Devils.
Arguably the greatest of these comeback victories came in the Champions League final against Bayern Munich, who held on to an early-won 1-0 lead right up until extra time, only to be rocked with stoppage-time goals from both Ole Gunnar Solskjær and Teddy Sheringham.
United's 1998/1999 squad:
Goalkeepers: 
Peter Schmeichel, Raimond van der Gouw, Nick Culkin
Defenders:
Gary Neville, Phil Neville, Denis Irwin, Wes Brown, Jaap Stam, David May, Ronny Johnsen, John Curtis, Henning Berg, Michael Clegg, Chris Casper, Ronnie Wallwork, Danny Higginbotham 
Midfielders:
David Beckham, Nicky Butt, Ryan Giggs, Paul Scholes, Roy Keane, Jordi Cruyff, Jesper Blomqvist, Philip Mulryne, Mark Wilson, Jonathan Greening
Forwards:
Andy Cole, Teddy Sheringham, Dwight Yorke, Ole Gunnar Solskjær, Erik Nevland, Alex Notman
Fans and writers regard United's treble in 1998/1999 as Sir Alex Ferguson's greatest achievement as a manager, with the main man himself being awarded a Knighthood and the Freedom of the City of Glasgow for his efforts.
But do YOU think that they are the greatest squad the Premier League has ever seen?
Arsenal – 2003/2004
The 2003/2004 season was Arsenal's 106th competitive season, and would see them win the Premier League without conceding a single defeat.
Despite this undefeated Premier League run – which earned them the name "Arsenal Invincibles" – Arsene Wenger's 03/04 side would bow out of the Champions League quarter-finals, and FA Cup & League Cup semi-finals.
That being said, to go an entire season in the Premier League without a single loss is something that no other team in history has ever accomplished.
Some fans may also have a foggy memory of a more unsavory moment in Arsenal's 03/04 season, when several of their players were charged by the FA for their part in a mass brawl that ensued after their matchup with Manchester United that September!
Arsenal's 2003/2004 squad:
Goalkeepers:
Jens Lehmann, Graham Stack
Defenders:
Ashley Cole, Martin Keown, Lauren, Sol Campbell, Kolo Tourè, Pascal Cygan, Gaël Clichy, Stathis Tavlaridis, Justin Hoyte, Frank Simek
Midfielders:
Patrick Vieira, Cesc Fàbregas, Robert Pires, Freddie Ljungberg, Edu, Gilberto Silva, Ray Parlour, Giovanni van Bronckhorst, David Bentley,  Jerome Thomas,  Ólafur Ingi Skùlason
Forwards:
Josè Antonio Reyes, Thierry Henry, Dennis Bergkamp, Francis Jeffers, Sylvain Wiltord, Nwankwo Kanu, Jèrèmie Aliadère, Michal Papadopulos, John Spicer, Quincy Owusu-Abeyie, Ryan Smith
Frontman Thierry Henry would score 39 goals in 51 appearances during the 2003/2004 season and was awarded both the PFA "Players Player of the Year" award and the "FWA Footballer of the Year" award for his efforts!
But do YOU consider "The Invincibles" to have been the greatest ever Premier League squad?
Chelsea – 2004/2005
The 2004/2005 season was Chelsea FC's 91st competitive season and 13th consecutive season in the Premier League. Manager Josè Mourinho's first season with the club would see them win their first Premier League title (which was also their first league title in 50 years) as well as the League Cup.
Their 2004/2005 campaign was historic, if not only for the sheer number of Premier League records that Mourinho's Chelsea broke! Their accolades included; most away wins in a season (15), most clean sheets kept in a season (25), fewest goals conceded AWAY in a season (9), fewest goals conceded in a season (15) and most wins in a season (29).
Despite such a rampant Premier League effort and a League Cup victory, Chelsea didn't manage to win the Champions League or FA Cup, bowing out in the Semi-finals and Fifth Round respectively. 
Chelsea's 2004/2005 squad:
Goalkeepers:
Petr Čech, Carlo Cuducini, Lenny Pidgeley  
Defenders:
John Terry, Ricardo Carvalho, William Gallas, Glen Johnson, Celestine Babayaro, Wayne Bridge, Paulo Ferreira, Robert Huth, Steven Watt, Nuno Morais
Midfielders:
Claude Makèlèlè, Frank Lampard, Joe Cole, Damien Duff, Alexey Smertin, Filipe Oliveira,  Geremi, Arjen Robben, Scott Parker, Jiri Jarošik, Tiago Mendes,  Anthony Grant
Forwards:
Didier Drogba, Adrian Mutu, Mikael Forssell, Mateja Kežman, Eiöur Guöjohnsen
To this day, Chelsea's 2004/2005 squad still hold the defensive record for "most clean sheets" and "fewest goals conceded" in a Premier League season.
But do YOU think that they were the greatest team that the Premier League has ever seen? 
Chelsea – 2005/2006
We've decided to include another of Chelsea's most dominating Premier league squads, not because we're biased, but simply because it's hard to pick between the two – with both the above 2004/2005 season AND the following 2005/2006 season being back-to-back titles for Mourinho's newly acquired squad!
2005/2006 was Chelsea's 100th year as a club, and they marked this anniversary by winning both the Premier League and the Community Shield trophies.
Josè Mourinho's men continued their previous season's record-breaking ways by winning their first 9 games of the season – the best start to a Premier League season than any other team (including Arsenal's Invincibles!). 
Chelsea's 2005/2006 squad:
Goalkeepers:
Petr Čech, Carlo Cuducini, Lenny Pidgeley 
Defenders:
John Terry, Ricardo Carvalho, William Gallas, Wayne Bridge, Asier del Horno, Paulo Ferreira, Robert Huth
Midfielders:
Claude Makèlèlè, Frank Lampard, Joe Cole, Damien Duff, Shaun Wright-Phillips, Filipe Oliveira, Arjen Robben, Geremi, Maniche, Lassana Diarra, Jimmy Smith
Forwards:
Didier Drogba, Hernan Crespo, Carlton Cole, Eiöur Guöjohnsen
This Chelsea squad equaled their previous record from the year before for "most victories within a league season" (29).
But do YOU think that they were the best Premier League lineup in history?
Manchester United – 2007/2008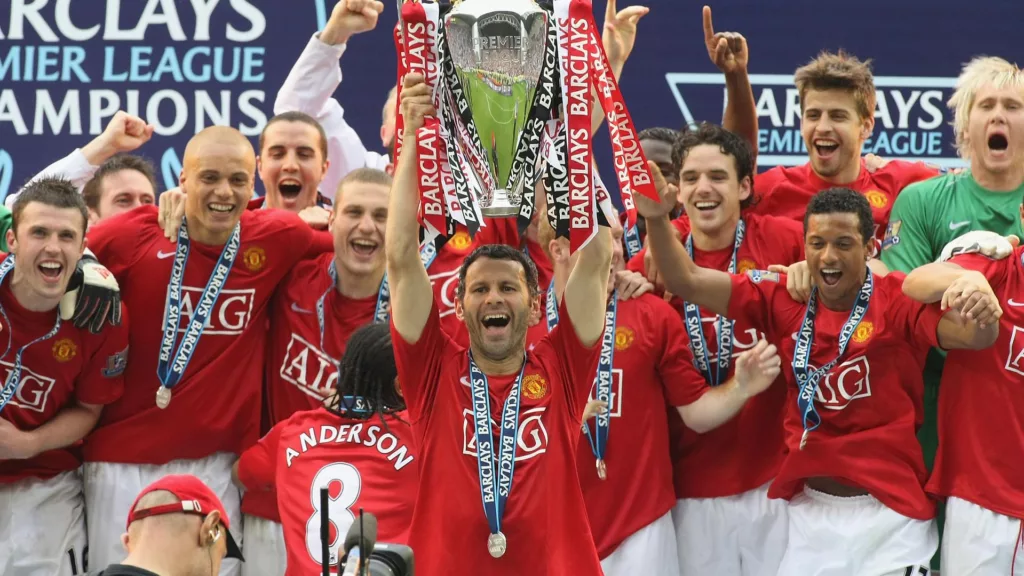 The 2007/2008 season was Manchester United's 16th in the Premier League and their 33rd-consecutive season in the top flight of English football.
Despite a slow start, Ferguson's men won their 10th Premier League title, as well as the 2008 Champions League trophy – edging out rivals Chelsea FC on penalties in the final, whom they also beat to win the 2007 FA Community Shield.
Despite this, United failed to secure the FA Cup nor the League Cup, losing out to Portsmouth and Coventry respectively.
Manchester United's 2007/2008 squad:
Goalkeepers:
Edwin van der Sar, Ben Foster, Tomasz Kuszczak, Tom Heaton
Defenders:
Gary Neville, Patrice Evra, Rio Ferdinand, Wes Brown, Gabriel Heinze, Nemanja Vidic, Gerard Pique, John O'Shea, Mikaël Silvestre, Jonny Evans, Danny Simpson, Phil Bardsley, Adam Eckersley, Richard Eckersley
Midfielders:
Cristiano Ronaldo, Ryan Giggs, Park Ji-Sung, Nani, Paul Scholes, Darren Fletcher, Owen Hargreaves, Anderson, Michael Carrick, Darron Gibson, Lee Martin, Chris Eagles, Rodrigo Possebon, Sam Hewson
Forwards:
Louis Saha, Wayne Rooney, Ole Gunnar Solksjær, Carlos Tevez, Danny Welbeck, Dong Fangzhuo, Fraizer Campbell, Febian Brandy
Alongside their triumphs as a team, the 07/08 Manchester United players also faired well on an individual level – with 3 players in the "PFA Premier League Team of the Year", whilst Cristiano Ronaldo took home 6 individual awards including the PL Golden Boot for his 31 league goals.
But do YOU think that they were the best Premier League side that we've seen?
Manchester City – 2017/2018
In their 116th season of competitive football, Manchester City would take the Premier League trophy once again (and the League Cup to boot!).
It was City's 21st season in the Premier League, and they went about their campaign ferociously, breaking a handful of records in the process!
Their 17/18 season Premier League records included: Most points (100), most away points (50), most points ahead of second-place (19), most wins (32), most away wins (16), most goals (106), best goal difference (+79), and most consecutive victories (18).
Despite their rampant Premier League and League Cup campaigns, Pep Guardiola's men didn't manage to secure the EFL Cup, FA Cup OR the Champions League during their season!
Manchester City's 2017/2018 squad:
Goalkeepers:
Ederson, Claudio Bravo
Defenders:
Kyle Walker, Danilo, Vincent Kompany, John Stones, Nicolàs Otamendi, Aymeric Laporte, Eliaquim Mangala, Benjamin Mendy, Tosin Adarabioyo
Midfielders:
Ilkay Günogan, Kevin De Bruyne, Fabian Delph, Bernardo Silva, Fernandinho, Yaya Tourè, Oleksandr Zinchenko, Phil Foden, Brahim, Tom Dele-Bashiru
Forwards:
Raheem Sterling, Sergio Aguero, Leroy Sanè, Gabriel Jesus, Lukas Nmecha
City's 100 victories in their 2017/2018 campaign earned them the nickname "Centurions".
But do YOU think that they were the best Premier League squad we've seen?
Now that you've refreshed your memory on what each of these incredible lineups accomplished, VOTE BELOW on who you think was the greatest ever Premier League squad!