Arsenal boss Mikel Arteta has told Ivorian winger Nicolas Pepe that he will not play for Arsenal again under his leadership.
Pepe joined Arsenal in 2019 from Ligue 1 side Lille for a then-club record fee of £72 million.
He won Lille's player of the season for the 2018/2019 season, and was name in Ligue 1's Team of the Year before joining the Gunners.
During his first season with Arsenal, Pepe won the FA Cup – making 37 appearances and scoring 7 times for them over the course of the season.
Pepe continued to get regular game time with the Gunners throughout the following two Premier League seasons, making 29 and 20 appearances respectively and scoring 11 league goals overall.
However, he was loaned off to Ligue 1 side Nice in August of 2022 to spend the remainder of that season with them, without the option of a permanent move at the end of it. He scored 8 times upon returning to Ligue 1.
Since returning to the Emirates, Pepe spent some time recovering from an injury, and it has been made clear by boss Mikel Arteta that he has no intentions of including him in his plans going forwards now that he is back.
Pepe still has 12 months remaining on his contract, which means that he cannot look to find another club until January, unless he and the club come to a mutual agreement to terminate it.
This would mean Arsenal agreeing a payoff with Pepe to release him prematurely – something which it has been reported the two parties are trying to come to an agreement on currently.
Even if an agreement isn't reached, it has been made very clear that Arsenal will not look to reintegrate Pepe into their squad, and have come to terms with the fact that they will not recuperate any of the £72 million that they spent on the winger in 2019.
It is reported that Pepe is currently training alone, and his No.19 squad number was given to Leandro Trossard upon his arrival from Brighton at the start of the year.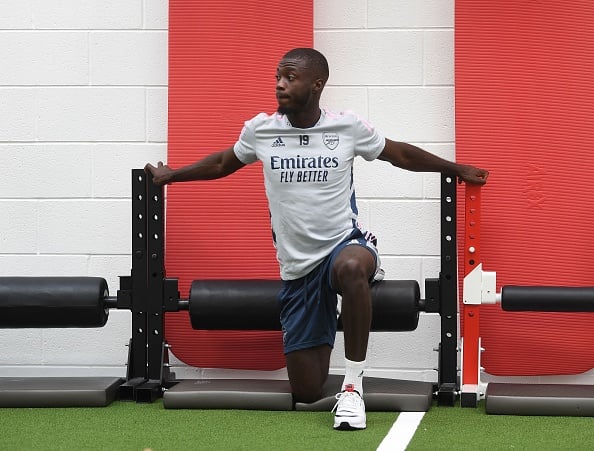 Mikel Arteta said of the situation "We are still looking for solutions. There is a lot of communication between his agent and the player and the club at the moment, but there is nothing else to announce at the moment"
Pepe has been linked with potential moves to either the Saudi Pro League or Turkish Süper Lig, with Besiktas specifically rumoured to be interested in the winger, although no concrete word has been released as of yet.
Whatever Pepe's future holds, Arteta for one is certain that it won't be with Arsenal!