Leg breaks in football are like car crashes on the road – nobody wants to see them inflicted upon anybody else, but we just can't help but want to take a look when they do happen.
Here, we have compiled a countdown of what we believe to be 10 of the worst leg breaks to have sullied the otherwise beautiful game – let us know if you think we've missed any worse examples!
Number 10 – Oupa Ngubule
A relative unknown, Oupa Ngubule's injury bares striking similarities to our number 3 on this list, which has merited its inclusion – with both incidents occurring in 2009.
The grainy footage from the South African second division (confusingly named the First Division) probably doesn't do the brutal tackle justice. Tackler Félix Mwamba Musasa landed a four month ban for the incident.
Number 9 – Preston Burpo
Another lesser known entry into the list is MLS player Preston Burpo.
In a 2017 clash with the New York red Bulls, the New England Revolution keeper came charging out to clear a through ball and unfortunately powered his leg straight into an oncoming strikers standing foot.
The damage of the impact was immediately clear with Burpo's leg kinked straight in the middle – it would be concluded at Massachusetts General Hospital that he had broken both the tibia and fibula of his right leg!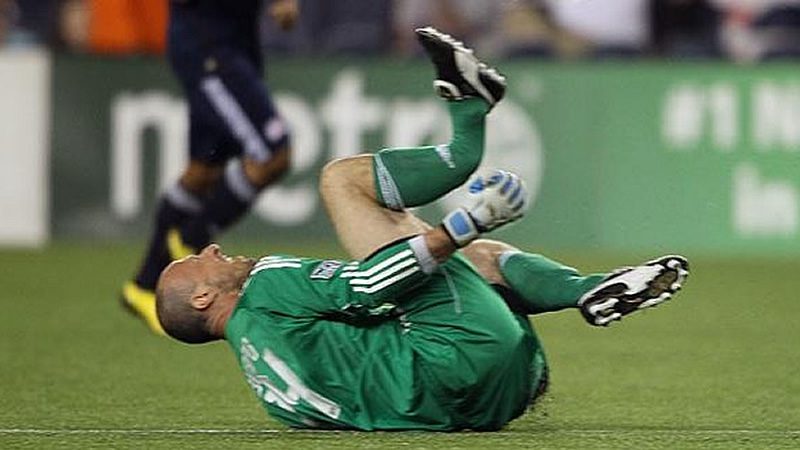 Number 8 – Filipe Luis
Ex-Chelsea man Filipe Luís was lucky to play in the Premier League again after a clash with Athletico Bilbao keeper goalkeeper Gorka Iraizoz in 2010.
Despite the horrendous fracture to his right fibula, Luís was back in action in only 4 months and made his career defining move to Athletico Madrid just months after sustaining the injury!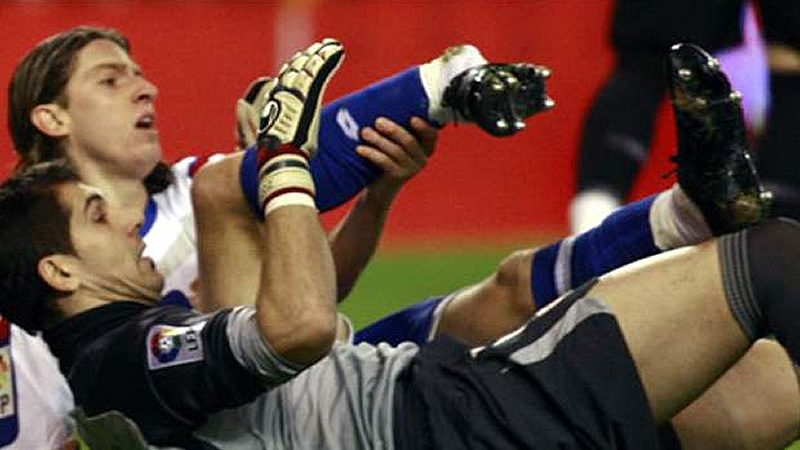 AFP / Getty Images
Number 7 – Henrik Larsson
SPL legend Henrik Larsson netted an astonishing 174 goals over 221 games for Celtic, but he will be equally remembered for this horrific leg break in 1999.
During one of Celtic's appearances in the UEFA Cup, Larsson wrestled awkwardly with Lyon player Serge Blanc and came off second best.
The resulting injury kept Larsson out of the team for the whole season, which some would argue cost head coach John Barnes his job.
Number 6 – Edgar Andrade
In 2007, Cruz Azul player Andrade was sliding in to block a cross when his right boot got caught awkwardly under his body.
His momentum caused one of the most visually horrific leg breaks you're likely to see.
The severity of the angle of Andrade's foot in this picture is challenged only by that of the infamous player featured at number 2 in this list!
Number 5 – Bryan Oviedo
During a 2014 FA Cup tie against lowly Stevenage, Everton's Bryan Oviedo tangled with Simon Heslop.
Oviedo's tackle was unfortunately timed at the exact same moment that Heslop tried to strike the ball with venom from distance.
The force of the impact was enough to cause a clean break to both bones in Oviedo's leg. It would take a massive 8 months before Oviedo could play again.
Number 4 – Eduardo
Another entry from the Premier League collection.
In just his first season at Arsenal, Eduardo was arguably on the receiving end of the worst tackle in the countdown when Birmingham City's Martin Taylor flew in and connected squarely with Da Silva's firmly-planted standing leg.
Testament to how graphic the injury was, Sky Sports producers chose not to show replays on the live coverage!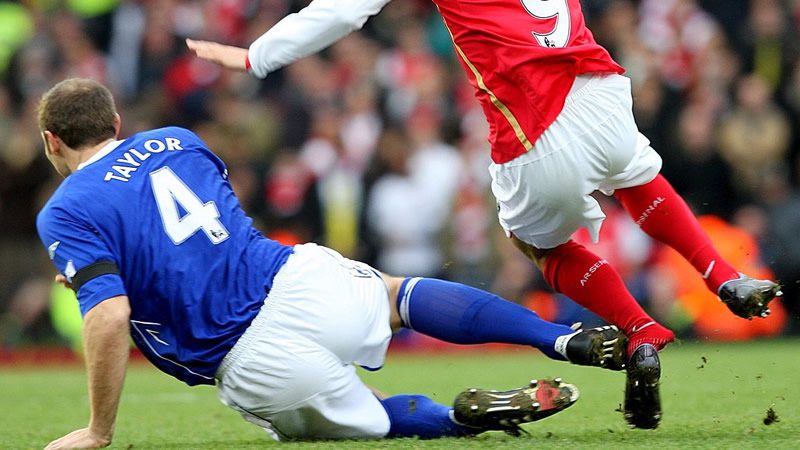 Number 3 – Marcin Wasilewski
Currently contracted at Wisla Krakow, in 2009 Marcin Wasilewski was contracted as centre back for Belgian side Anderlecht when he was on the receiving end of an horrific late challenge from Belgian Axel Witsel.
Witsel walked away with a red card and an 8 game ban.
Wasilewski went through 6 operations before appearing again in 2011.
Ancasent / Photobucket
Number 2 – Djibril Cissé
Inevitably arriving at number 2 is Djibril Cissé.
Surely the unluckiest player in the countdown, Cissé managed to break both his legs in completely separate incidents 2 years apart.
Both breaks came during the striker's 3 year spell at Liverpool – firstly, an innocuous enough challenge from Blackburn's Jay McEveley in 2004 was enough to break both bones in Cissé's left leg.
Defying the odds he returned to play just 6 months later, but it would only be another 12 months before the second break.
After agreeing a transfer from Liverpool the very same day, Cissé snapped his right leg in a friendly game for France, ultimately delaying his transfer by 6 months.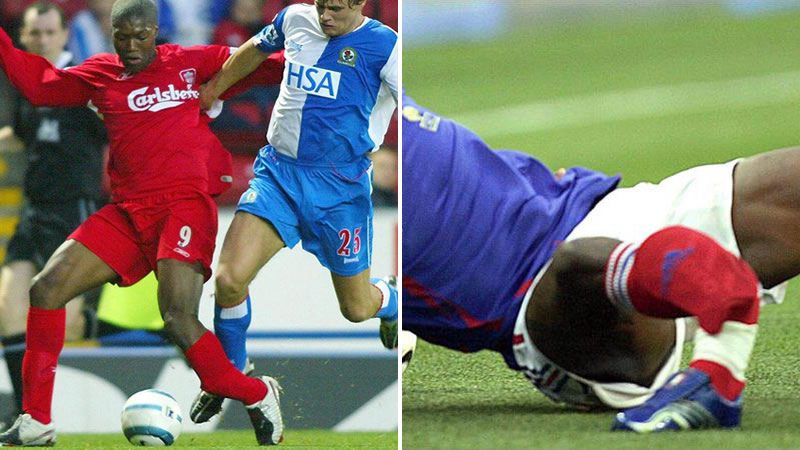 Number 1 – David Busst
Deserving of its place at the top of our gruesome countdown is arguably the most infamous injury in footballing folklore: David Busst's career ending leg break in 1996.
Manchester United's brutal tacklers Denis Irwin and Brian McClair combined to completely destroy Busst's right leg in a Premier League match against Coventry that would end his career on the spot.
Both tibia and fibula were completely snapped, and for a long time it appeared Busst would lose the leg.
Although the injury forces his retirement from the game, he went on to make an admirable recovery and saved the use in his right leg, which many consider to be a miracle in itself.