Domino's Pizza has become the new sponsor of newly promoted Luton Town's Oak stand at Kenilworth Road!
Luton have been eagerly anticipating the final touches of the stadium refurbishments required to make Kenilworth Road Premier League appropriate, with their first home match of the 2023/2024 season taking place against West Ham tomorrow evening.
Alongside increased capacity seating for general concession and disable guests, other changes to Luton's home ground include a new concourse and concession stand and a new food vendor partnership.
Works are still underway at Kenilworth Road, so some of the arena's bars and concession areas will not be in use, although this will not be the case for fans once the stadium refurbishment has been completed.
Perhaps one of the bigger talking points for home and away fans alike is the odd choice of sponsorship for the Oak Stand entrance of Luton's home stadium.
Domino's Pizza have proudly had the name changed to "Domino's Oak Stand", complete with their blue, red, and white branding across the entrance – contrary to the orange attire of Luton.
At the top of the now Domino-blue doors reads the slogan "History is made in Luton" – with a timeline below outlining the conception of Luton Town FC in 1885, followed by that of Domino's Pizza Luton a century later.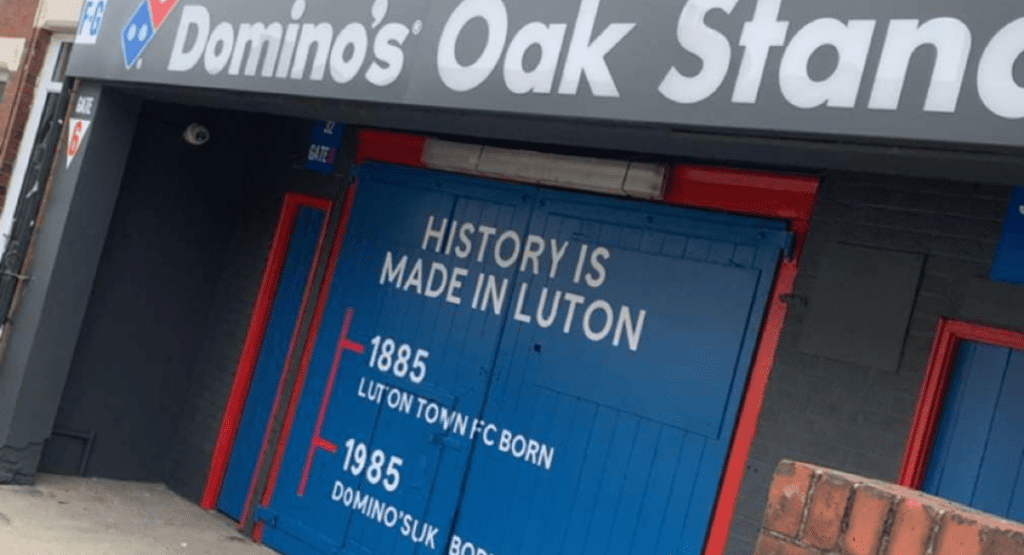 Those responsible for this collaboration will find out whether or not it is a hit or miss with Luton's fans tomorrow evening, with their kickoff against West Ham at 8PM.
What do YOU think of this branding choice? Let us know below!