Portugal took on South Korea in their final group match today, and Korean key men Son Heung-min and Hwang Hee-chan took the chance to stun the group winners with a 2-1 victory!
Portugal looked to make it 3-in-3 after just 5 minutes, taking the lead through Ricardo Horta.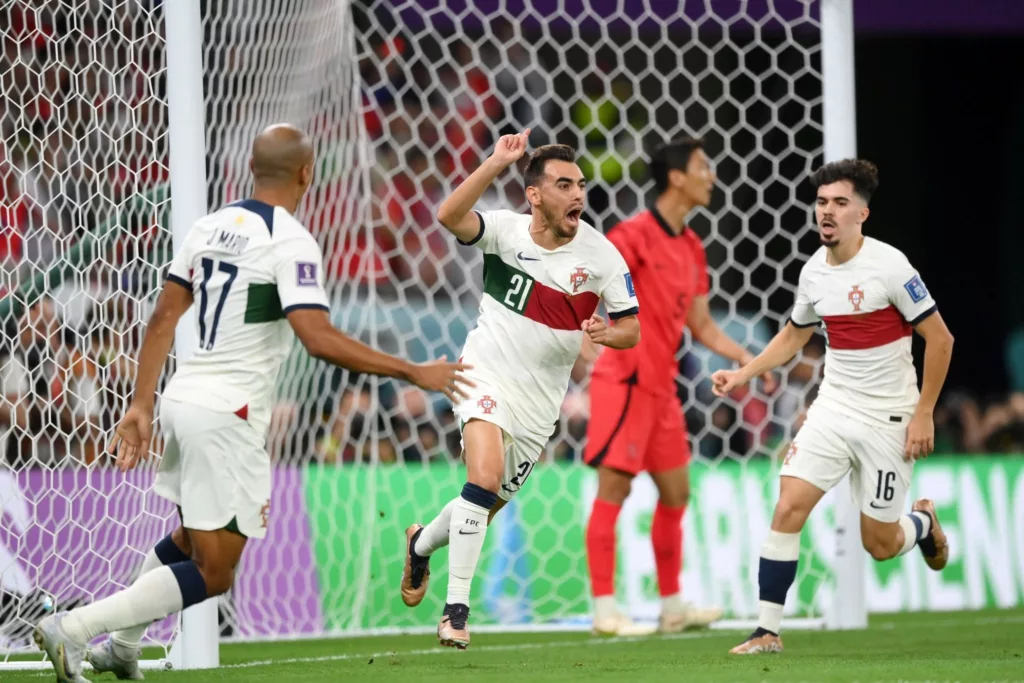 South Korea, however, had other plans. They needed to win this game in order to progress to the knockout stages of the tournament.
They absorbed the anticipated relentless pressure from the Portuguese and made the most of a corner 27 minutes in, when Kim Young-gwon won a scramble to a loose ball and found the back of the net.
Portugal enjoyed the majority of possession throughout the match and continued to find ways to get the ball into dangerous areas. Despite this, they were denied goals both through a handful of solid saves from Korean goalkpeer, Kim Seung Gyu, as well as from lost chances via a misfiring Ronaldo.
Korea managed themselves to challenge Portuguese keeper, Diogo Costa, whilst managing to fend off the array of attacks coming their way.
Their hard work and grit paid off in the 2nd minute of stoppage time at the end of the game, when Son Heung-min picked up the ball from a Portugal corner and went on to create a beautiful counter-attacking goal.
Son runs the ball from his own side of the pitch right up to the front of the Portuguese box. He is set upon by 3 defenders, but manages to keep the ball at his feet as they close in.
Son then threads a wonderful pass through all 3 defenders, weighted perfectly into the path of an incoming Hwang Hee-chan.
Hwang finds the back of the net expertly to propel Korea to a shock 2-1 victory over table topping Portugal and, more importantly, to the knockout stages of the 2022 World Cup!
WATCH the highlights from the match below!