It is always entertaining to watch a game's scoreline escalate out of control and give us a plethora of goals. Just as long as it's not OUR team that's conceding them. Here, we remember the most remarkable scoreline in football history. When AS Adema beat Stade Olympique L'EMyrne (SOE) 149-0, on Halloween 2002! 
Now, how exactly does a team manage to score 149 goals in a single 90 minute game? Math dictates that this would require a goal to be scored EVERY 36 SECONDS to achieve! 
Lo and behold – Adema managed it. It is even down in the Guinness Book of Records as the "highest scoreline in a football match". The previous scoreline to hold this record was 39-0, when Arbroath beat Bon Accord in the Scottish Cup in 1885.
So, HOW did AS Adema manage to score 149 goals – 110 more than the previous record holders?
Well, in fact, they didn't…
All 149 goals scored on the day were in fact put in the back of the net by SOE. 
So, the more fitting question it would seem is WHY did L'Emyrne put this ridiculous scoreline past their OWN keeper?!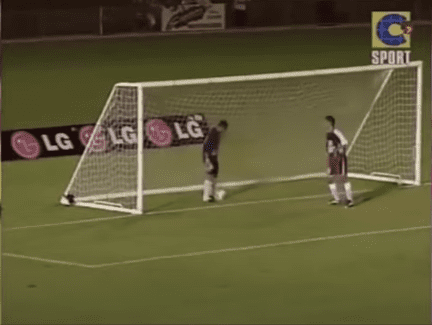 Build up to the game…
The now Guinness Record holding match was part of a four-team round-robin to determine the National Championship. The Pro League Championnat de Football to be exact – Madagascar's Premier football league.
Each team would play each other twice – resulting in 12 games over an 11-day tournament.
SOE's penultimate match of this cup was against DSA Antananarivo.
L'Emyrne were defending champions of the league and were drawing 2-2 with Antananarivo in the closing minutes of the match.
Late on, a highly disputed decision was made to reject a penalty claim from SOE. The penalty would have given them the chance to pinch the game in the latter moments.
The match ends at 2-2, and the resulting draw means that SOE are knocked out of the title race. The way the tournament's point system worked ensured that they could not compete for the title.
It also guaranteed that AS Adema, SOE's opponents in their final match, had won it.
SO L'Emyrne's response…
This decision, apparently along with other decisions that went against SOE in the tournament, had the reigning champions pretty upset. In "protest" to the referee against these decisions, SOE made the decision to play against themselves.
After the first handful of own goals were deliberately scored, Adema realised their would-be opponents hadn't arrived to play.
They eventually made no attempt to win the ball, but simply watched in bemusement as SOE continued their protest.
SOE's intentions were also soon clear to fans – hoards of whom rushed the ticket office to demand a refund. They (quite rightly) felt that they had paid to watch a game of football and weren't being given one.
Repercussions…
As with so many ill-thought protests, SOE's actions that day achieved nothing positive. That is if you're not counting a Guinness World Record for losing a game by the highest scoreline…
In fact, after the match, SOE coach Zaka Ratsarazaka was suspended for 4 years by the Malagasy Football Federation.
This came alongside 4 of the squad's players being suspended for the season and BANNED from visiting stadiums. 
These were Captain Manitranirina Andrianiaina, goalkeeper Dominique Rakotonandrasana, Mamisoa Razafindrakoto and Nicolas Rakotoarimanana.
ALL players from both teams were given warnings and threatened with more serious action should they commit further offences.
Referee, Benjamina Razafintslama, was not punished – with the events deemed to be out of his control.
WATCH highlights of this bizarre chapter of football history BELOW!