Liverpool forward Luis Diaz pleaded with Colombian rebel group the National Liberation Army (ELN) for the release of his Father after rescuing a point for the Klopp away at Luton yesterday.
Diaz was absent from Liverpool's squad during their previous two outings against Nottingham Forest and Bournemouth due to ELM having kidnapped both of his parents, seemingly or ransom.
Police were able to rescue Diaz's mother within hours of the couple being taken, although sadly were not able to secure his Father, Mane.
The abduction occurred on the 28th of October in the Columbian town of Barrancas, with the Columbian government stating that ELN were responsible.
The government's peace delegation, which is still in negotiations with ELN, said that they were "officially aware" that this offence had been committed by "perpetrated by a unit that belongs to ELN" in a statement last Thursday.
Diaz's heartfelt plea after sensational return…
Luis Diaz made a sensational return to the Liverpool squad yesterday as they travelled away to Kenilworth Road to face off with Premier League newcomers Luton.
Klopp's side were 1-0 down after the standard 90 had been played and looked to be going home pointless before Diaz emerged to save the day despite everything that is happening with his family.
The forward appeared as an 83rd minute substitution, finding a much needed equaliser in the 5th minute of added time to rescue a point for the Klopp.
Following his goal, Diaz lifted his Liverpool shirt to reveal a t-shirt bearing the message "Libertad Para Papa" or "Freedom for Father".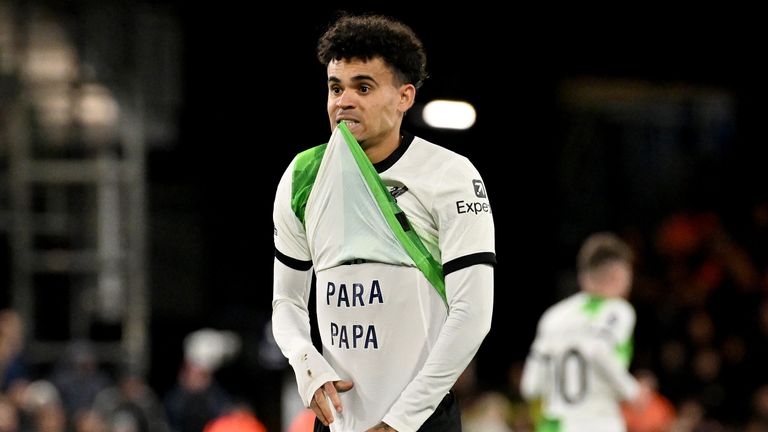 He followed this action up with a post on his X account, which read:
"Today the footballer is not speaking to you. Today Lucho Diaz, the son of Luis Manuel Diaz, is speaking to you. Mane, my dad, is a tireless worker, a pillar in the family and he has been kidnapped."
"I ask the ELN for the prompt release of my father, and I ask international organizations to work together for his freedom."
Este gol es por la libertad de mi padre y de todos los secuestrados de mi país.

Gracias a todos por su apoyo.🙌🏻@europapress @bbcmundo @el_pais @AFP @cruzrojacol @ONU_derechos @ONUcolombia @RevistaSemana @nytimes @Reuters @CNNEE @ElTIEMPO @elheraldoco pic.twitter.com/KuRqYkTPhv

— Luis Fernando Díaz (@LuisFDiaz19) November 5, 2023
Diaz had previously commented on his family's awful situation saying "My mother, my brothers and I are desperate, distressed and without words to describe what we are feeling."
"This suffering will only end when we have him back home. I beg you to release him immediately, respecting his integrity and ending this painful wait as soon as possible."
Liverpool manager Jurgen Klopp said that Diaz had been "fine" since returning to training sessions with the club and added that "Negotiations are ongoing but still positive and that's why [Diaz] wanted to be part of the team."
We at Football Post pray for the safe return of Diaz's Father and that a peaceful resolution can be found for this awful situation.