Jess Ibrom becomes the new National Academy Director of the Cook Islands FA, with exciting talent development programmes already underway to uplift the standard of football in the region.
Ibrom has been a coach and player development specialist for nearly 25 years, with experience in the Premier League at Chelsea FC being just one role in an impressive career of football development.
Ibrom was a professional coach and player development officer in the MLS between 2000-2005, Head of Youth Development at King's Lynn Town FC between 2006-2011, and Head of European Operations & a High Performance Academy Coach with Chelsea FC between 2011 – 2013 – before taking his talents to the continent of Oceania.
Jess Ibrom in Oceania
His first role within Oceania was as Academy Director & Head Coach of Wellington Phoenix as a part of the club's first elite residential academy in 2013. During his time with Wellington Phoenix, Ibrom recruited 34 players both domestically and internationally.
Two of his signings represented New Zealand's U17's in FIFA World Cup Qualifiers, with two others representing Fiji & Vanuatu's U17 sides in World Cup qualifiers. Ibrom also coached a further two academy players into professional contracts with the club. 
In 2016, he moved on to a new role – becoming a Coach Educator for the Oceania Football Confederation (OFC), delivering FIFA and OFC Coach Education courses. During his time in this role, Ibrom was responsible for the highest number of Senior C License Coaches successfully accredited in the Cook Islands' history.
During this time, he was also the Technical Director & a National Teams Advisor for the Cook Islands – his first role with them.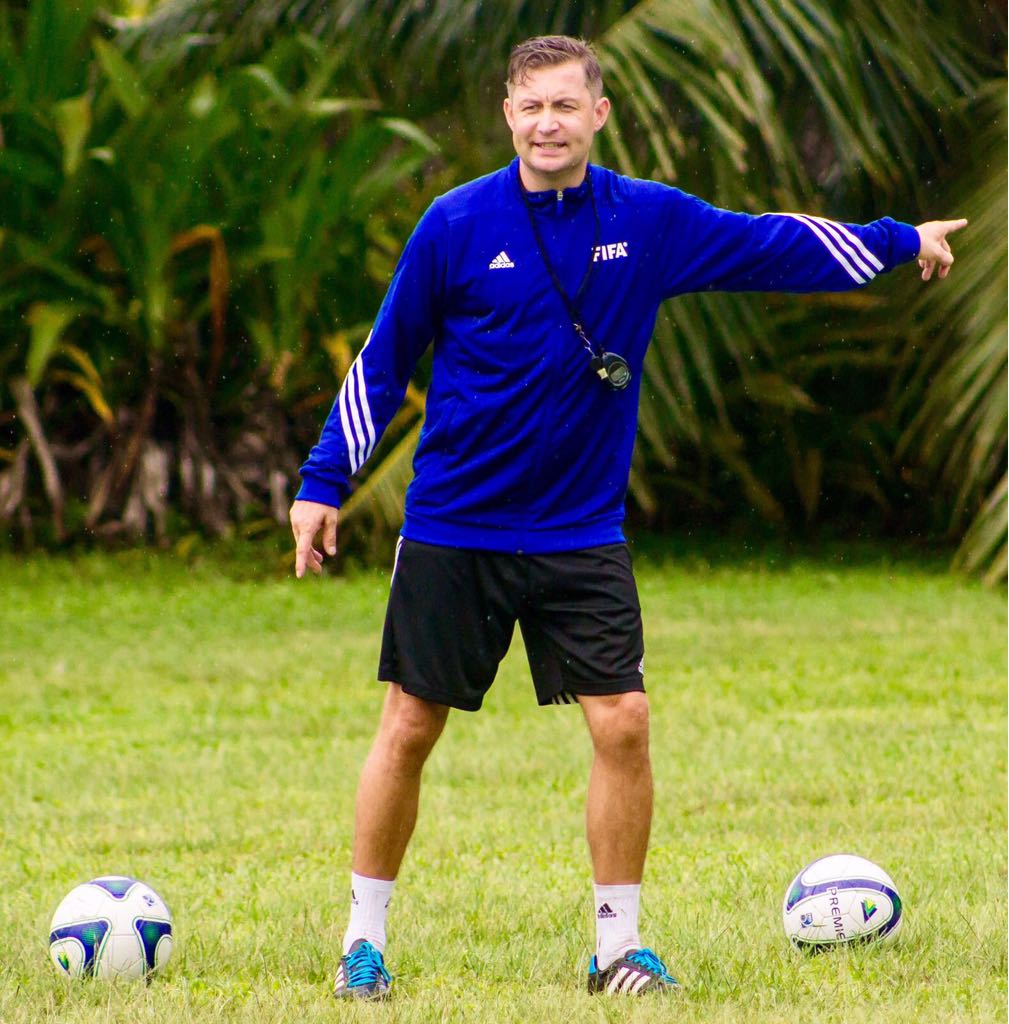 He established 6 National Academies, as well as the first OFC Education Centre in the region. Ibrom oversaw the implementation of the first FIFA Grassroots and Youth Coaching License in Rarotonga, as well as the first FIFA Goalkeeper course for the region in four years. 
The cherry on top for Ibrom during his first stint with the Cook Islands came when his U17's Women's side qualified for the semi-final stage of the OFC Preliminary Competition for the first time in their history.
In 2018, Ibrom moved on to Tasman United FC in New Zealand's top flight, to become their Head Coach & Director of Football. This move made him one of only ten national league coaches to work at the highest level of football in New Zealand.
Ibrom helped Tasman United to reach their highest placed finish in franchised history, as well as their biggest win in their history – a 5-0 demolition job of Southern United FC. 
His influence also helped the club beat Team Wellington for the first time in their history, with his side also ending Auckland City's 2 year (and 49 game) unbeaten run. It was also the first victory over Auckland City that Tasman United had ever achieved.
Ibrom's focus on bringing in young developing talent was highlighted when he fielded the youngest side in franchise history for a national league fixture – with an average age of just 19.6 years old.
Ibrom's tenure with Tasman United FC ended in late 2019, with his next move coming in the form of Technical Director of the Football Federation of Samoa (FFS).
Domestic National Training Groups were established for U10's – U23's during his reign, as well as the first country wide FIFA Women's Development Programme. 
Ibrom also implemented a long term development plan for the FFS, which spans between 2022 – 2026 in a bid to improve the wealth of national talent in the region. 
During his time in this role, Samoa's U19 National Team qualified for the quarter finals of the OFC Championship for the first time, with their National Women's Team placing 4th at the Women's Nations Cup in 2022. 
Ibrom's influence also helped the first Global Scouting & Recruitment Programme become established in Samoa, as well as the first Residential Training Camps in Auckland. 28 recruits made it to International level under Ibrom's leadership at Samoa's Football Federation. 
Ibrom's new role: National Academy Director for the Cook Islands FA
Given his impressive coaching & development record, alongside his experience in the continent of Oceania, it is no surprise that Jess Ibrom was selected to fill the new role of National Academy Director for the Cook Islands. 
Ibrom settled into his new role in July this year, and has wasted no time in putting in the groundwork for success in the organisation. 
His aims whilst mobilising the first National Academy for the Cook Islands is to oversee the implementation of FIFA Talent Development Schemes, bringing in new talent both across the Cook Islands & Internationally, and mentoring the nation's academy staff to provide more specific training for OFC & Olympic competitions. 
Upon his appointment, Ibrom immediately bought in Alastair McLae & Russ Gurr as his talent scouting team – having previously worked with the pair at Samoa's Football Federation. 
The trio have unveiled their approach to raising the bar for footballing talent in the Cook Islands, and have taken some inspiration from the nation's national sport – rugby league. 
Ibrom's aim is to bring in 'heritage' talent to the Cook Islands to improve the quality of their football – players with Cook Island heritage currently  playing in other countries.
This is something that is common practice in rugby league, although not so much in football.
"We employ cutting-edge international scouting methods and strategies which we have developed ourselves and have spent years perfecting, whilst ensuring we foster strong connections with Cook Islands communities around the world," said Alastair McLae.
"We have experienced significant success thus far, discovering dozens of promising eligible new players. The enthusiastic response from the playing community has been truly impressive."
"Switching football associations is a process we are very experienced in and follow a simple process to achieve," added Russ Gurr.
"Discussing with interested players to switch and play international football for the Cook Islands opens up opportunities for players whose current international career might have slowed or stopped."
"We have found with previous players who have switched that playing for the nation of their heritage and gaining a deeper understanding of that culture is a huge motivation and a proud moment for them and their family."
This approach has already yielded some success for the Cook Islands, despite pre-dating Ibrom & Co's arrival at the organisation. 
Ben Mata, a former New Zealand international who helped Wellington Olympic to a third successive New Zealand Central League title last year, captained the Cook Islands against the Solomon Islands in the 2022 World Cup Qualifiers, and is exactly the type of exterior talent that Ibrom and his team are looking for.
Although the idea of bringing in fresh and diverse talent from further afield to raise the level of the game within the Cook Islands seems a promising one, not everybody agrees that it is the way to go for the nation if they are looking to develop home grown talent.
Critics of Ibrom's approach claim that sourcing talent from outside of the Cook Islands will negatively impact the ability to spot and develop home grown talents across the islands.
McLae, however, insists that their approach will do "quite the opposite" for the nation's football.
"Bringing in players with different technical, tactical experience will only bring up the domestic standards."
"We also want to find aspirational players to motivate future Cook Island generations and increase football participation on the island and even through worldwide Cook Island communities," he said.
"We also find that after overseas players attend OFC competitions, the Pacific culture and heritage is then taken back to the worldwide community bases."
"The hope is for more professionalised, organised and successful Cook Islands men's and women's senior teams. The men's team went three years unranked by FIFA after a seven-year gap between 2015 and 2022 without a single international fixture. It's hoped a strong and sustainable talent pool will help prevent a repeat act."
"Sustainability is the number one priority, evolving the overseas ID Talent processes and systems we put in place with a view to long-term improvements through results and overall rankings," added Gurr.
"We want to set them up for the future and therefore our goal is not only to identify eligible players but to also support participation within Cook Island communities around the world."
"The hope is that this would be achieved by offering an exciting pathway for young players, who themselves can ultimately become role models and aspirational figures for younger generations."
Speaking to our team at Football Post, Ibrom said that he is excited to have begun this journey with the Cook Islands, and has every confidence that his team's tried & tested approach will raise the standard of football in the region for years to come!
Given his impressive track record across Oceania, North America, and Europe –  we are sure that his tenure as National Academy Director for the Cook Islands will be a success, and wish Jess and his team all the best in making it so!