Jesus Navas has the chance to repeat the European glory he achieved with Sevilla in 2006 tonight as they take on Roma in the Europa League Final!
Navas has a long history with the Spanish side, having played in their youth academy from the age of 15, eventually earning his way to first team status in 2003.
He spent 10 years playing for Sevilla's first team, making 285 appearances and scoring 23 goals, before moving on to Premier League giants Man City in 2013. 4 years, 123 appearances and 4 goals later, and Navas eventually found his way back to Sevilla in 2017.
Despite struggling to achieve a top 10 spot in La Liga this season, Navas' side have seen great success in the Europa League, having dispatched Manchester United over 2 legs to make it to tonight's final.
And this isn't the first time that Sevilla have tasted European success. They been a part of, and won no less than 6 Europa League titles.
The first of those titles came in 2006, when the competition was known as the UEFA Cup, and a 21-year-old Navas was a part of their trophy-lifting squad.
2006 UEFA Cup
Sevilla beat Zenit Saint Petersburg to the top spot in their group stage on goal difference, with each team earning 7 points. Both teams would also win their double-legged Round of 16 knockout matches 2-1, against Lille and Marseille respectively, and meet each other in the quarter finals.
The winner of this double-legged fixture was decided in the first of the two games, when Sevilla trounced their Russian competitors 4-1. The second leg ended in a 1-1 stalemate, sending the Spanish side to the semi-finals.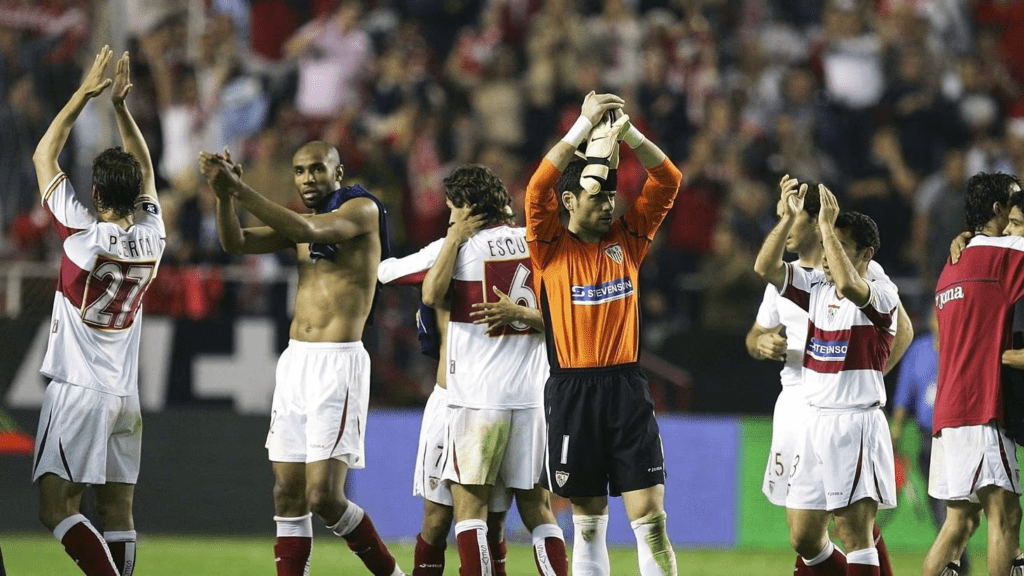 Their opposition for their penultimate challenge was German outfit, Schalke 04, who had come off of their own convincing quarter-final victory, beating Levski Sofia 4-2.
The matchup with Schalke was certainly a tighter one than Zenit Saint Petersburg had managed to put up, with a narrow 1-0 victory in the first leg sending Sevilla through to their first ever European cup final.
Their opponents would also be entering into a European cup final for the first time. English side Middlesborough, who pulled off a spectacular 4-3 victory in their semi final, after having gone 1-0 down in the first leg to Steaua Bucuresti.
The final was played at Philips Stadion in Eindhoven on the 10th of May 2006. Sadly for the English outfit, Sevilla were not leaving the fate of their first European final to fate. They demolished Middlesborough 4-0, allowing them to lift the Europa League (or UEFA Cup) trophy for the first time.
Europa League 2023
Jesus Navas may well be confident that he can once again lift the Europa League trophy with Sevilla, as they go into tonight's matchup with Roma.
Having come from Champions League stock rather than the traditional Europa League route like Roma, and having just turned around a 2-goal deficit and beat Manchester United 5-2 in their semi-final, the Spanish outfit is expected to be in high spirits for their 7th final.
Not to mention the fact that are going in with a 100% success rate in Europa League Cup Finals!
The match kicks off tonight at 7PM (BST) and can be watched for FREE via BT Sports' Youtube channel!