A Super computer has recently made its predictions for the final results in this year's Premier League campaign. The system, from statistical analysts FiveThirtyEight, gave its conclusions following this weekend's PL action.
Arsenal remain at the top of the table, despite dropping points to West Ham who came back from 2-0 inside of 10 minutes to level with The Gunners yesterday afternoon. Pep Guardiola's Man City have found incredible form and find themselves just 4 points behind the leaders with a game in hand.
Guardiola and his former understudy Mikel Arteta find their sides clashing at the end of this month, in what is sure to be a vital game for both sides in the final stretch of this season.
At the other end of the Premier League table, we are in for a relegation battle for the record books. Currently, Nottingham Forest, Leicester City and Southampton occupy the final 3 positions. However, just 11 points separate Southampton at the bottom of the table and Wolves who sit 13th, a full 5 places safe at the moment.
FiveThirtyEight have used their Forecast and Soccer Power Index Ratings to predict every remaining fixture, and has given us its thoughts on how the season conclusion will pan out!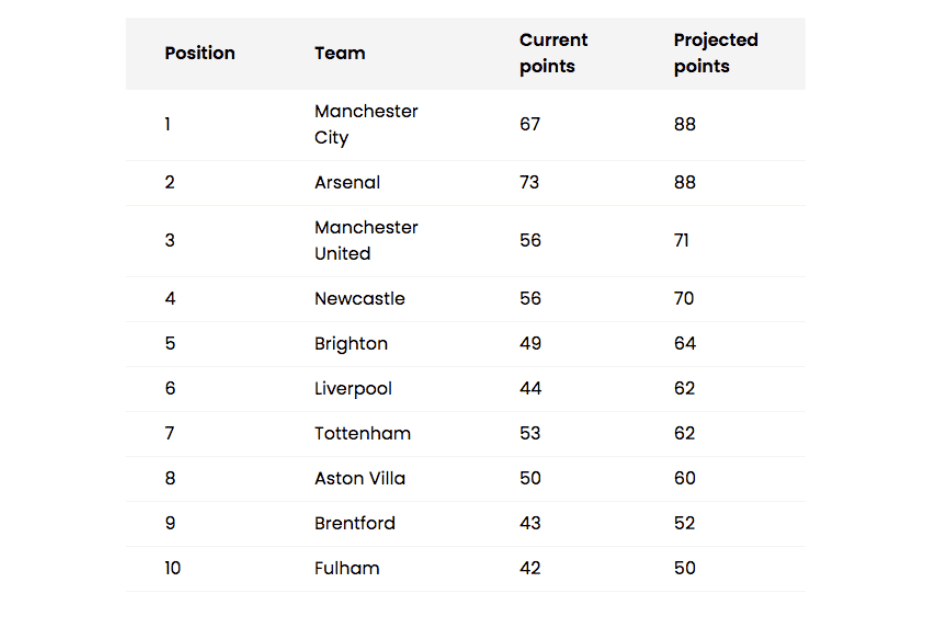 The super computer has determined that the top 10 will finish up with the same contenders, just with a slight reshuffle. Arsenal are apparently set to lose out on the title due to goal difference alone, with they and Man City finishing on 88 points a piece.
FiveThirtyEight's system has tipped ten Hag's Manchester United to win the battle for 3rd place, edging out Newcastle United by just a single point with both teams remaining as they currently stand in the table.
Tottenham and Aston Villa are predicted to each drop 2 places to finish in 7th and 8th, with Brighton and Liverpool being tipped to make a straight swap with them at 5th and 6th place. As per the super computer's calculations, Brentford and Fulham remain as they are in 9th and 10th. If this comes true, then this would be The Bees' best finish in the English top flight since their return in 1981!
As for the 3 teams that are to be relegated to the EFL Championship, the computer doesn't see a great deal of change occurring. In fact, the only mixup from how the teams currently sit in the table is the prediction that Leicester will escape relegation by a single point, dropping Everton below the red line to join Nottingham Forest and Southampton.
We wouldn't envy the job of having to predict how this tumultuous season will come to a close, but we are excited to see it play out and find out just how accurate FiveThirtyEight's super computer really is!