Spanish Football Federation President Luis Rubiales has faced a backlash from the Spanish media for his Women's World Cup kiss with forward Jenni Hermoso after their 1-0 victory over England in the final.
Rubiales' now infamous kiss occurred during the official post-match ceremony, following La Rojas FIFA Women's World Cup victory over England's Three Lionesses.
The incident was captured clearly on camera during the ceremony, and it didn't take long before the Spanish Football Federation President received a backlash on social media for his actions.
Spanish football president's kiss sparks outrage after Women's World Cup final https://t.co/zLlHdIVdGg

— The Guardian (@guardian) August 21, 2023
Rubiales has since commented and denies that the kiss was inappropriate in any way, saying:
"It was a kiss between two friends celebrating something."
He referred to those suggesting otherwise as "idiots and stupid people" before adding "Let's ignore them and enjoy the good things."
Jenni Hermoso, despite initially commenting during a post-match live stream that she "didn't like it" (referring to the kiss), has since mirrored Rubiales' stance on the incident.
When later speaking to media post-match, Hermoso referred to the kiss as a "natural gesture of affection".
She went on to add:
"It was a totally spontaneous mutual gesture because of the immense joy that winning the World Cup brings. The President and I have a great relationship, his behaviour with all of us has been outstanding and it was a natural gesture of affection and gratitude."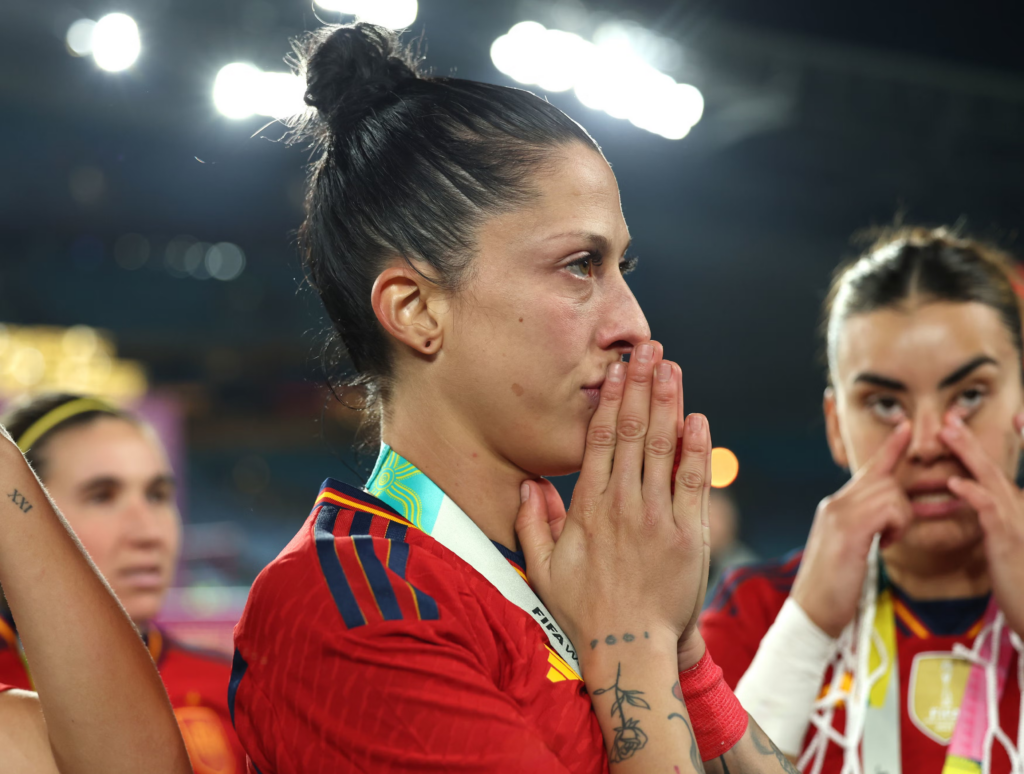 Despite Hermoso seemingly rectifying her position on the kiss, this didn't stop the incident blowing up all over Spanish news outlets the Monday after their national women's side won the coveted world title.
Adriàn Barbón, a socialist politician in Spain called the World Cup kiss an "absolute lack of respect and an abuse that neither the moment, nor the euphoria, nor the joy justifies"
The Minister of Equality in Spain's caretaker government, Irene Montero described it as "a form of sexual violence that we women suffer on a daily basis and until now has been invisible"
To third this view was Nadia Tronchoni, a sports specialist for newspaper El País, who said of Rubiales' actions "It's an intrusion. An invasion of one's personal space. Without consent. An aggression."
It Is Unacceptable To Kiss A Player On The Lips— Miquel Iceta

In a boisterous moment of celebration, following Spain's victory over England in the final of the just concluded Women's World Cup, Spanish Football Federation President Luis Rubiales kissedhttps://t.co/zWtAiNU88J pic.twitter.com/gPxSaiRrM2

— Parallel Facts (@ParallelFacts) August 21, 2023
Rubiales seems to stand by his claim that he did nothing wrong in kissing Hermoso on the lips in celebration, yet the point has been made that in the video he kisses other players on the cheeks.
Whether this was special treatment for Hermoso, or Rubiales deciding lip kisses for the whole team were innapropriate, who can say!
Although Rubiales' Women's World Cup kiss has bought a great deal of uproar to his country, we here at Football Post hope that it hasn't taken away from their national side's amazing achievement in winning the tournament.
Do YOU agree Rubalies' World Cup kiss was wrong? VOTE BELOW! 👇