Article 48 of the UEFA statutes prevent the broadcasting of football matches between 2.45PM – 5.15PM on Saturdays, robbing fans of joyous weekend viewing since the 1960s. That could all be set to change, with sports streaming network DAZN looking to bid for EFL rights against giants such as Sky Sports & BT Sports.
What is Article 48 of the UEFA Statutes?
Article 48 deals with the regulation of audiovisual and radio transmissions of national member associations of UEFA. The short and sweet of it is that, between the hours of 2.45PM – 5.15PM on Saturday afternoons, football matches cannot be broadcast. It is commonly referred to as the "blackout" rule.
Brought about during the 1960's, this bizarre rule was initially put in place to encourage fans to attend matches in person, with boosted ticket sales aiding the revenue, and therefore the longevity of the clubs.
Supported at a time by the likes of Burnley FC's former chairman Bob Lord, (who felt that football matches such not be televised at all and even banned the BBC from filming Match of the Day at Turf Moore for a spell) many fans have felt for a while that the law is outdated and, if anything, impedes their ability to watch and support their team.
Many fans now feel that in the modern age where everything is televised and followed online, there should be more options available for watching your favourite team play, rather than the traditional setup of an expensive Sky Sports subscription or a season ticket to watch matches.
About time someone come in and did something for a much cheaper price than sky, mint when team is away from home or you finish work right on 3pm on a Saturday afternoon and can't make it to the ground to watch the game.

— alex richards (@theoriginalalx) March 29, 2023
Enter the era of the stream…
A big problem for the Premier League and various other stakeholders in the modern age of the beautiful game is alternative sources. When fans relied on the choice between a cable television broadcast or buying a ticket and attending in person, the blackout rule achieved its goal. However, with the modern surge of streaming networks and foreign broadcasting options, fans have been able to bypass Article 48 by watching their team play via a non-domestic source.
Interestingly, the blackout rule was lifted by UEFA associates during the COVID-19 pandemic, as matches were played behind closed doors. This led to a resurgence of those within the footballing world to call into question once more what the purpose of having the ban was actually serving, other than stopping fans watch their teams and encouraging illegal streaming.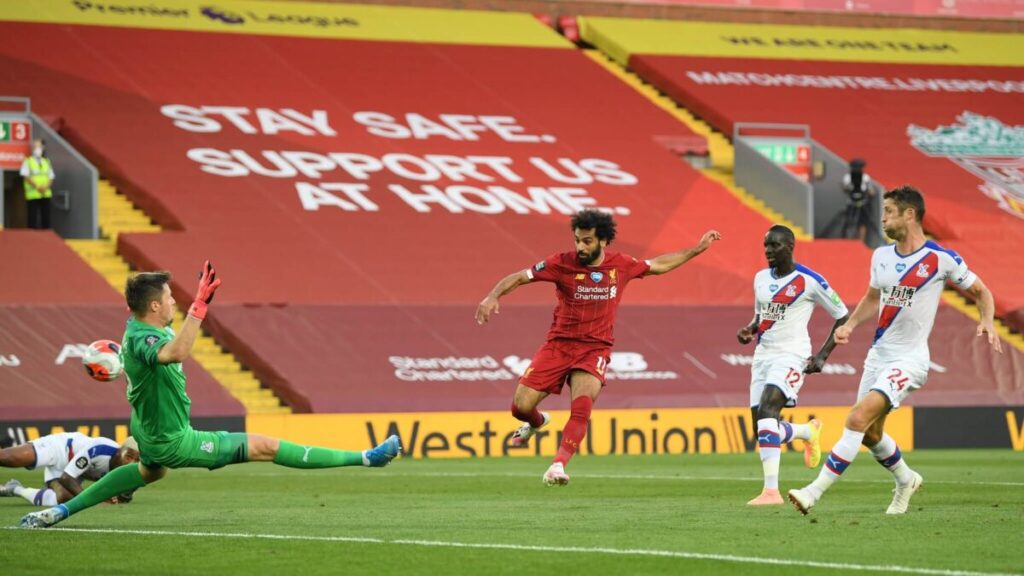 Now comes the news that streaming networks DAZN & Viaplay are looking to compete with the likes of BT Sports and Sky Sports for the rights to show EFL matches in the 2024-2025 season. Sky Sports have owned the rights to EFL matches since 2002, paying a whopping £119m a year in a deal to secure exclusive rights to the 138 games.
Sources close to DAZN have reported that the owners of the streaming network consider the blackout rule to be "anachronistic" and "medieval" and will look to bid for its removal, should they win the rights to EFL matches.
DAZN are also interested in purchasing rights to Premier League matches, with their Chief Executive Shay Segev confirming their interest in an interview with The Times last month. He said "Football is obviously very big in the UK and EPL is an option on our menu.
He continued to say "do we have any ambition to go to this market, the answer is of course yes. And it's not only ambition it's a high priority on my list. I am very confident that in the mid to long-term we can be a big player in the UK"
Currently, 200 of the 380 matches played in the Premier League are shown live. These 200 matches are then divided into 7 packages for viewers. Of these 7, Sky Sports currently own 4, BT Sports 2, and Amazon Prime 1. This equates to 112 matches shown on Sky Sports, 52 matches on BT Sports, and 20 matches on Amazon Prime.
The winners of the new EFL contracts are set to be announced this Summer, and with this recent shift in events surrounding the broadcasting of English football, and the sheer amount of opposition to the 3PM blackout rule, it looks like fans of the English game may get to enjoy watching domestic matches on their Saturday afternoons again after all!