Euro 2004 went down in footballing history as a tournament with some of the most surprising outcomes to date. None more so than Greece's hard-fought road to their first-ever major championship victory…
FIFA Euro 2004 was the 12th instalment of the competition since its creation in 1960. Portugal hosted for the first time, with 10 venues across 8 cities used for games. It was also Latvia's first participation in a major tournament. 
Another first for an international tournament, the "silver goal" rule was introduced for Euro 2004. This rule meant that a team leading by the half-time break in the extra time period of a game would be declared the winner. If no team led by the end of the first half of extra time, the following 15-minute half would be played.
In a shock upset – the tournament saw giants Spain, Italy and Germany eliminated in the group stages.
France, ranked 2nd in the FIFA world rankings at the time, would bow out in the quarter-finals. England's lions would be dispatched by hosts, Portugal, in the quarter-finals also.
Greece, ranked 35th in the FIFA world rankings, would win their first-ever major championship at Euro 2004.
So, how did they do it?
Where were Greece before Euro 2004?
Greece's last major tournament before the 2004 Euros was the 1994 World Cup, hosted by the USA. It was a tournament that they were happy to forget quickly.
They lost 3 games, failing to score a single goal and conceding 10 before bowing out of the group stages. They failed to qualify for the following 1996 & 2000 Euros, as well as the 1998 & 2002 World Cups.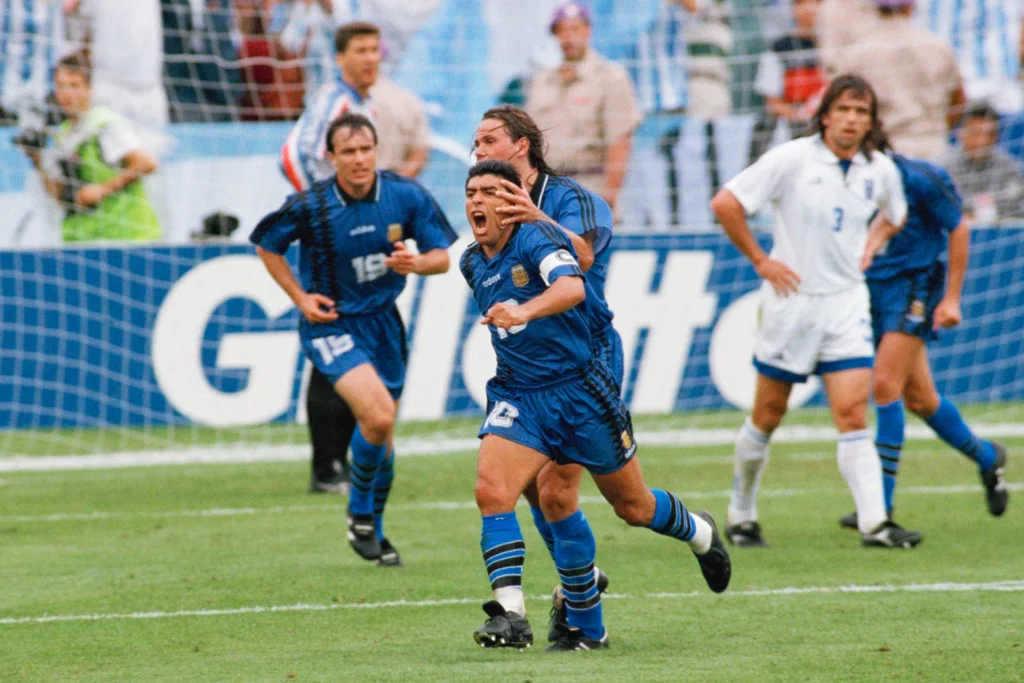 In fact in total, Greece had only (at this time) ever qualified for Euro 1980 and the 1994 World Cup.
This abysmal record didn't bode well for the team or the nation going into the Euros 10 years on. Not to mention that 2 of the remaining 3 places in their group were taken by giants Spain and Portugal. The latter of whom were also the hosts of the upcoming tournament…
The Greeks were so unconvinced they would remain in the competition that players reportedly planned holidays and weddings for July – the final month of the tournament!
Enter Otto Rehhagel…
In 2001, Greece appointed German manager, Otto Rehhagel, to take the helm for their national squad.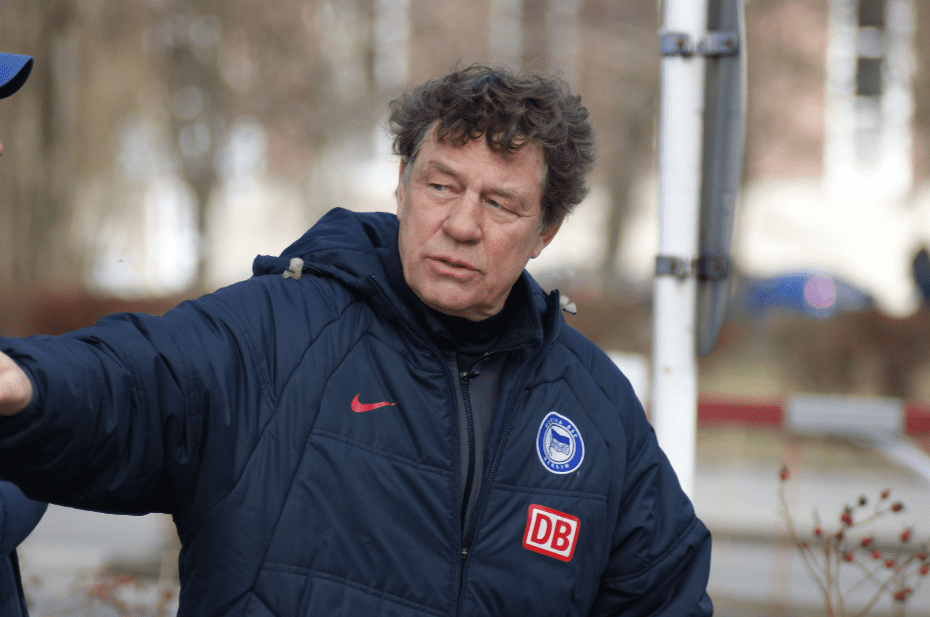 Rehhagel is one of only two people to be involved in over 1000 Bundesliga matches as both player and manager. He has won the Bundesliga 3 times as a coach, twice with Werder Bremen and once with FC Kaiserslautern.
During his illustrious career, he became known for his deployment of the "kontrollierte offensive", or "controlled offensive" tactics.
In essence, to attack with caution and defend with certainty.
This particular fashion, often rebuked by pundits as "anti-football", would be the key to Greece's Euro 2004 glory…
Euro 2004 qualifiers…
Otto Rehhnagel's first two matches in charge were qualifiers for Euro 2004. Both games were lost, the most memorable of which was a 5-1 hammering from Finland.
It was after this particular defeat that Rehhagel called upon Ioannis Topalidis to be his right-hand man. Topalidis, a German-born Greek national, was instrumental in easing communications between Greek-speaking players and German-speaking coaches.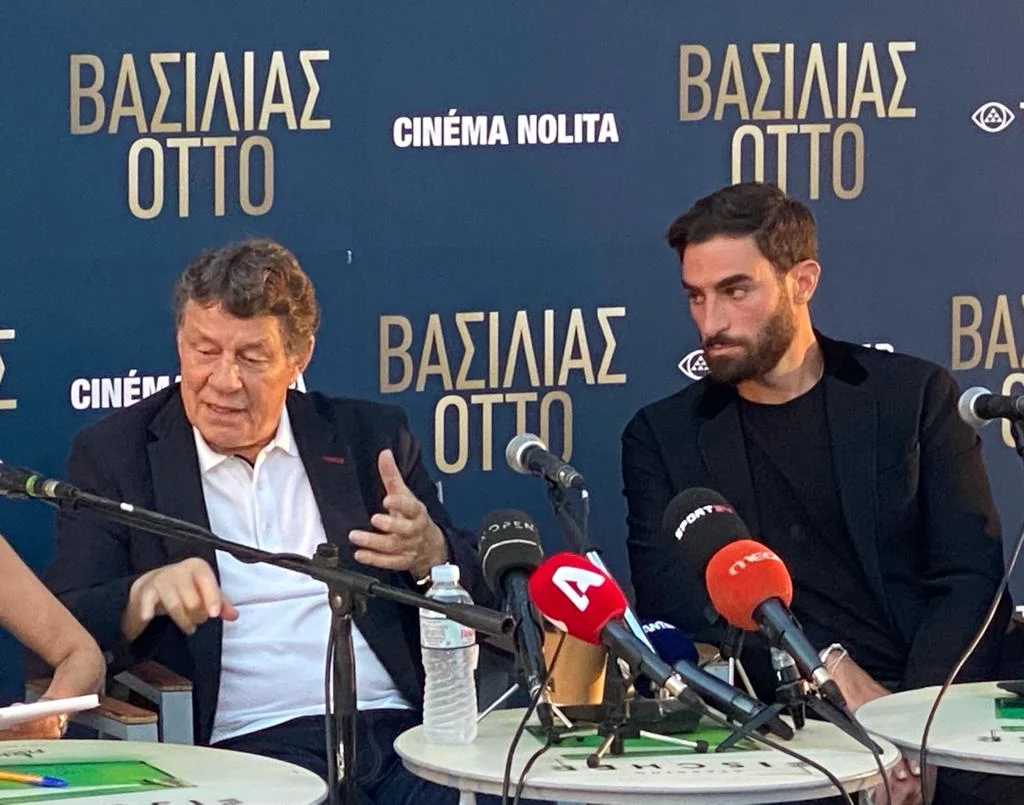 Rehhagel and Topalidis quickly got to work reshaping the Greek squad, with results showing both in training and in matches. Team members enjoyed playing for them and, following Topalidis' call-up, won their last 6 qualifying matches for Euro 2004.
It would be their first return to the European Championships in 24 years…
The start of something special…
12th June, 2004. The Euros begin. 
Greece, riding high under their new management, are given the honour of playing hosts Portugal in the opening match.
It is a big ask for Rehhagel's men to take on a star-laden Portugal squad.
Most especially when such a squad were also the hosts of the tournament. 
Day one of Euro 2004, however, would set a theme for what was to come. Greece shocked the world by going 2-0 up against the hosts – the game ending 2-1 following a Ronaldo consolation.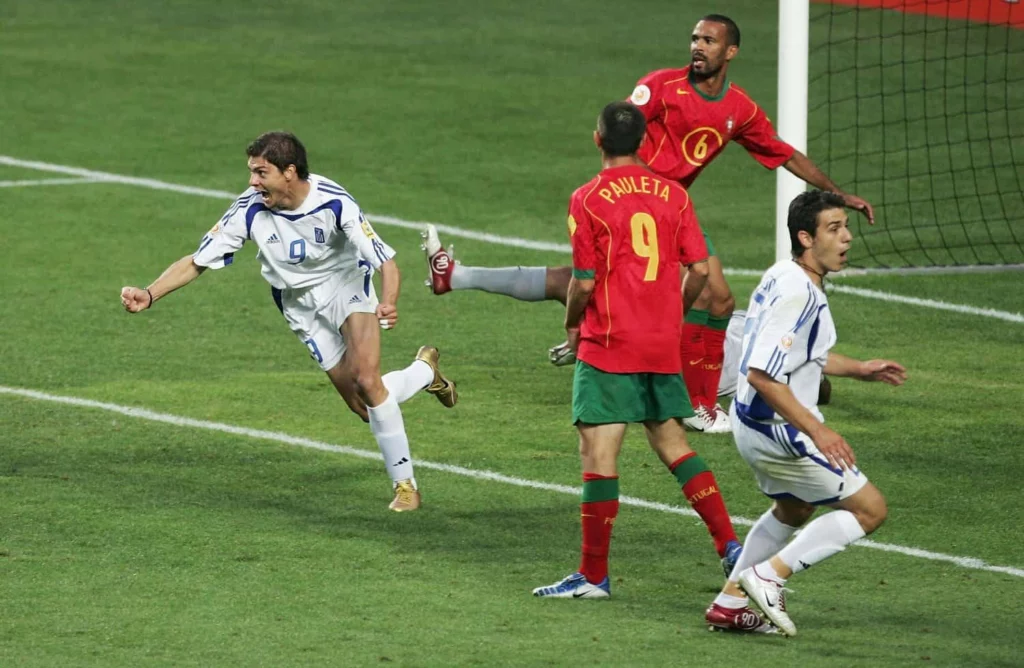 Rehhagel's formula of "controlled offence" had worked for the Greeks. Their game plan was clear to see on day one – frustrate, get ahead, and defend at all costs. 
Group stages…
Still on a high from their victory over Portugal, Greece approached their next big hurdle – a clash with Spain. Despite not managing another shock victory, Rehhagel's men did his system proud by holding off the Spaniards with a 1-1 draw.
Their final match against Russia did not go so smoothly. They lost a hard-fought match 2-1 – tying them on points with Spain.
Portugal had redeemed themselves of their opening-day loss and won their final two group matches – winning Group A. An elated Greece went through as runners-up in the group – pipping the Spanish on goal difference by 2 goals.
By the skin of their teeth or not, they had made it. 
By this point, Rehhagel and Greece's "controlled offensive" tactics were starting to become a topic of discussion amongst pundits.
Inevitably, criticism started to come their way for "stifling" games, even being labelled "anti-football". 
But they were getting further than they ever thought they would, so why stop there?
Rest of the groups…
Joining Portugal and Greece from group B would be France and England. Sven-Göran Eriksson's men had been pipped to the top spot by the French in their final match.
France won 2-1 after going 1-0 down to take first place in the group. Switzerland and Croatia took their exit as 3rd and 4th place in the group.
Group D would see the only team to win all 3 of their opening matches in the Czech Republic. They sailed through to the knockout stages with the Netherlands as runners-up, as Germany and Latvia bowed out.
Group C gave us one of the most controversial group standings in Euro history. The group consisted of Italy, Denmark, Sweden and Bulgaria. 
Italy, Denmark and Sweden all drew against one another, but beat Bulgaria.
This created an incredibly close table standing going into the final games. Sweden and Denmark's draw in their final match, by way of goal difference, put them BOTH ahead of Italy. 
The Italians furiously complained to FIFA that Denmark and Sweden fixed their match so as to depose them. The complaint was rejected. Italy were out.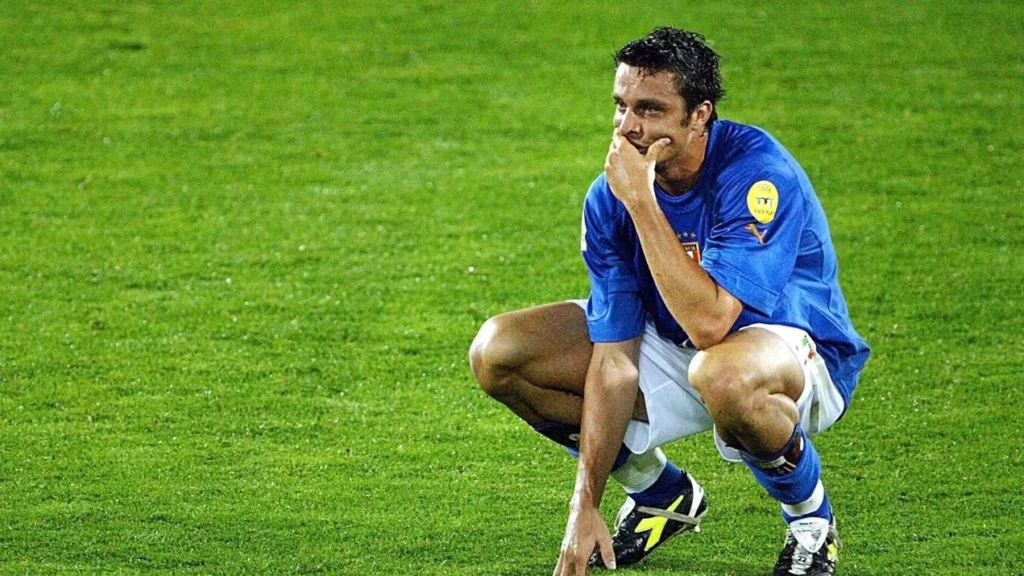 The group stages of Euro 2004 saw the demise of giants Germany, Italy, and Spain. The only "big" teams to get through were France, England and Netherlands.
Quarter-finals…
France vs Greece
The quarter-final draw saw Greece play perhaps the favourite of the remaining teams to win the tournament – France.
Zidane, Henry and Co were the current holders of the Euro Trophy and a force to be reckoned with.
Having seen the fruits of their tactics during their clashes with Portugal and Spain, Rehhagel stuck to his guns.
Giourkas Seitaridis was given the responsibility of man-marking danger man Thierry Henry. The rest of the squad was to rigidly play zone defence and patiently wait for their chance.
As was the Greek plan, France (and possibly viewers) became increasingly frustrated with the rigid defence in front of them. They pushed and pushed, as both Portugal and Spain had done before them, to no avail.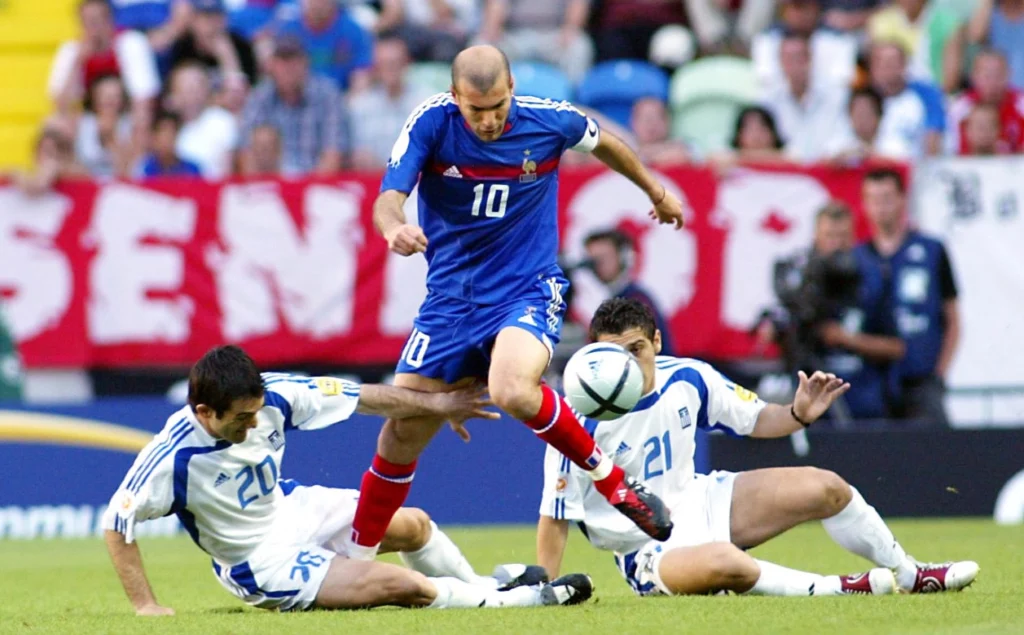 The committed defence and fabulous goalkeeping display of the Greek's kept them at bay.
Then, 65 minutes in, Greece's chance came. A mistake from France's left back in his own half allows Greece to nudge the ball down the wing into space. Strikers rush into the box as a beautiful looping cross is put in.
Angelos Charisteas leaps into the air and fires the ball off of his head and past Fabien Barthez.
Greece are beating France in a Euros competition. 
The gritty, defiant and outright frustrating defence from Greece sees out the remaining 25 minutes of the game. Greece are through to a Euro Semi-final.
England vs Portugal
England fans will likely remember the elating start that the Lions got off to against Portugal in  their quarter-final. 1-0 up through Michael Owen just 3 minutes in to the game.
It's coming home, they sing. 
England defend this lead for a full 80 minutes before Hélder Postiga pulls an equaliser out of the hat. The game goes in to extra time, and the newly bought in "silver goal" rule looms…
Portugal looked to knock England out with a goal in the 110th minute from Rui Costa. England fans breathed an enormous sigh of relief when Frank Lampard equalised just 5 minutes later! 
England are eventually knocked out on penalties after goalkeeper, Ricardo saves Darius Vassell's attempt and goes on to score his own!
Sweden vs Netherlands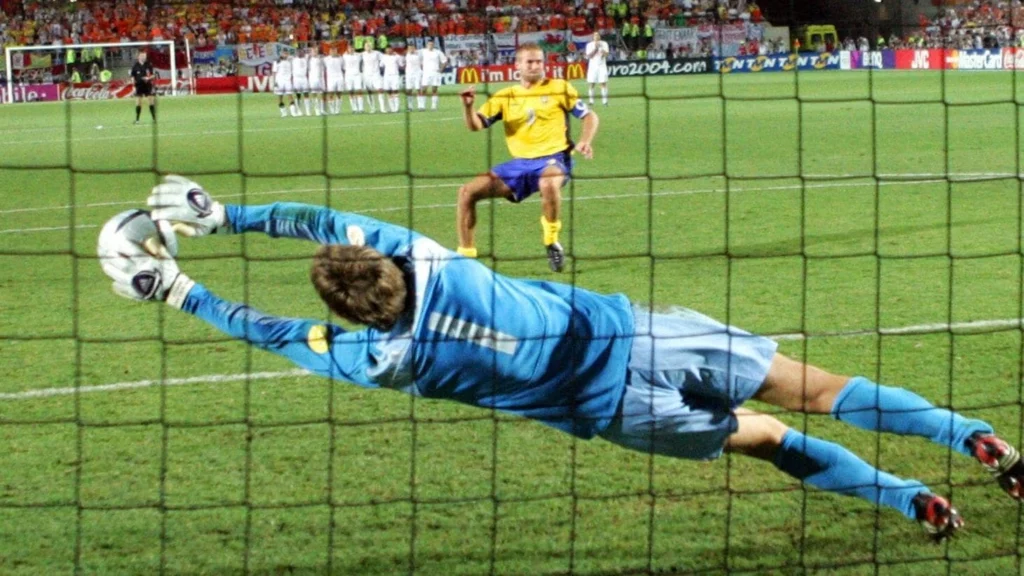 A goalless 120 minutes of football takes Sweden and Netherlands to penalties. The Dutch make history by making this their first-ever victory from penalties in a major tournament.
They move on alongside Greece and Portugal. 
Czech Republic vs Denmark
The Czech Republic were the only team to have won every match up until this point, and they weren't slowing down now.
They dominated Denmark 3-0 on their quarter-final. Milan Baros, who would win the Golden Boot for his 5 goals in Euro 2004, bagged 2 of them.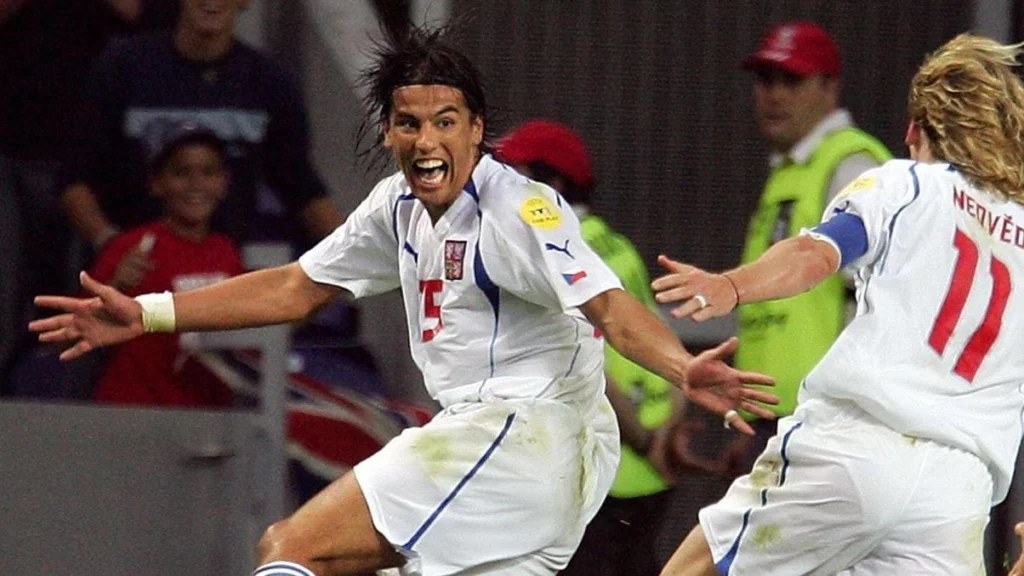 The Czechs now become the favourites to win Euro 2004…
Semi-finals…
In typical form for this particular tournament, Greece drew the favourites to win for their semi-final. 
They were to play Czech Republic at the Estàdio do Dragão. Hosts, Portugal, would take on the Netherlands at Estàdio Josè Alvalade.
Greece vs Czech Republic.
Greece, having started this tournament simply wanting to improve on their 1994 World Cup outing, now had new purpose. They could win this thing. 
Czech Republic were firing on all cylinders going into the semi-finals and hadn't lost a single point. Something that the Greeks were out to change.
The Czechs came out very strong, creating many chances that were either a whisker away, or forced Nikopolidis to work. Tomàš Rosickÿ comes the closest, as his effort bounces off of the woodwork early on. 
But, to the frustration of many and the elation of Greece, Rehhagel's tactics were stuck to once again.
Czech Republic could not breach the Greek defence in the first half. Nor could they find their mark for the rest of the standard 90 minutes. The game goes into extra time.
In true record-breaking fashion, just one minute into the first half of extra time, Greece score.
Traianos Dellas puts a powerful header past Petr Cech to score the first, and only ever silver goal in the Euros.
Greece's do-or-die defending ensured that this precious lead was kept for the remaining 10 minutes of the half. They had made it to the final.
Portugal vs Netherlands 
Portugal too had their sights set on making history in the Euros. They had never made it to the finals of a European Championship and, as hosts, wanted that amended.
They put on a wonderful display to outclass the Netherlands, going 2-0 up in the first half courtesy of Ronaldo and Maniche.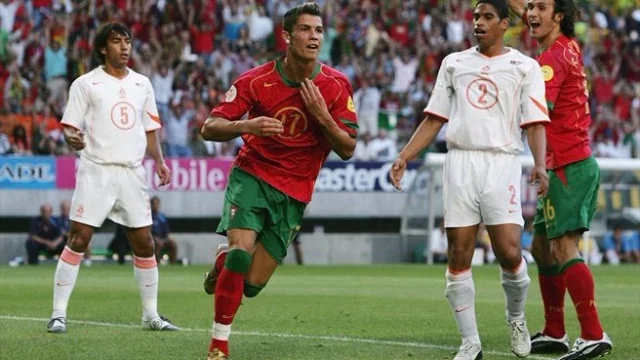 Portugal play a steadfast second half, with the exception of a Jorge Andrade own-goal. The game ends 2-1 and Portugal go through to their first-ever Euro final.
The stage is set.
To add to the list of historical firsts, this was also the first tournament where the first and last games involved the same two teams! 
The Euro 2004 final…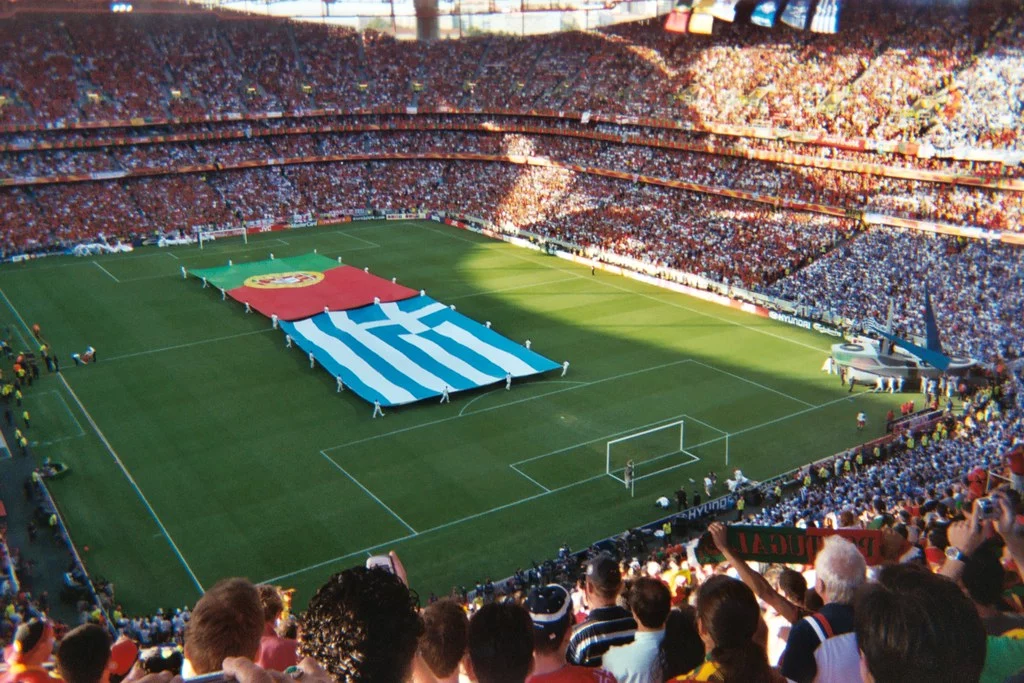 Greece were placed 35th in the FIFA world rankings and given a 150/1 chance of winning the tournament going in. Portugal were placed 9th in the world rankings and were given a 7/1 punt. 
Although, one could have argued that this particular Euro tournament had not played by any mathematician or pundit's rulebook. They would have been right.
Much to the dismay of neutral fans around the world, and especially Portugal fans, Greece held true to their formula.
They suffocated Portugal's dangerous attackers that night at the Estadio da Luz despite being dominated in terms of possession.
The story played out the same as it had the entire tournament – Portugal pushed and pushed to score a goal. Greece stubbornly held their ground and defended with all their hearts – often with goalkeeper, Nikopolidis' assistance.
Just short of the hour mark and Greece took the chance that they had so patiently waited for. 
As with almost all of their goals in Euro 2004, it comes courtesy of a cross-in, followed by a header. 
Greece drive in a corner kick, of which Angelos Charisteas (responsible for other important goals this tournament) gets on the end of.
A driven header into the far bottom corner puts Greece one step closer to their first major championship trophy.
It shows the rigidity of Greece's tactics that ALL of their goals in the finals of Euro 2004 came from crosses from the right-hand side met by a header! 
Rehhagel's men did him proud and stubbornly held on to their lead for the rest of the evening, winning them Euro 2004.  
History is made…
Almost the second the final whistle is blown in the Estádio da Luz, canon fire and fireworks erupt over the city of Athens.
Greek Prime Minister, Costas Karamanlis, can be seen jumping for joy in the stadium. 
People of all ages and demographics take to the city streets to celebrate this shocking victory. To all those present, it is clear what this victory means for the people of Greece.
Manager, Rehhgal said "[football has] managed to reunite the country, something politics wasn't able to do"
In July last year, director Chris André Marks released the documentary entitle "King Otto".
This documentary chronicled the road to victory walked against all odds by the German-led Greeks during Euro 2004.
Marks explains that "Apart from being Greek and wanting to champion Greek stories, I wanted to make this film because I love the theme of the underdog and enjoy stories of outsiders who defy seemingly insurmountable odds to upset the establishment".
He goes on to explain this victory's importance for Greece's people. 
He said "The summer of 2004 was widely considered by many Greeks to be the peak before the subsequent crash, so it was an opportunity to look to the past for inspiration, something we do often in Greece"
Nothing quite sums this up better than the slogan printed on the Greek team bus  – "Ancient Greece had 12 Gods, Modern Greece has 11"
By the end of their tournament, Greece had 3 players (including goalkeeper, Nikopolidis) named in the UEFA team of the tournament.
Midfielder, Theodoros Zagorakis, won UEFA player of the tournament for his contribution to Greece's victory. 
Nikopoloidis' stats also reflected his importance to the team and their defensive stance.
His 21 saves in the tournament were second only to the 23 made by Latvian keeper, Kolinko and he boasted the most clean sheets in the tournament (3).
Rebuke…
As Greeks across the world joined in celebration of their team's amazing achievement, pundits across the globe zeroed in on how it was done.
Rehhagel's "controlled offensive" tactics weren't as loved by everyone as they were by the people of Greece. Their victories were labelled boring and the team's performances were sullied with cries that such tactics ruin the game of football and suck the joy out of it for fans.
The Guardian even wrote "the only underdogs in history everyone wants to see beaten" as a result of their tactics.
It is easy to say when you are a non-Greek fan, watching the Euros in hopes of getting the most action available from the talents on show. 
However, it can be argued that what Rehhagel did with the squad he had available is in and of itself an impressive feat. His right-hand man, Topalidis, described the squad as "not the most talented team, but the most effective team".
And when you consider that they neutralised France, Spain and Portugal (twice!), as well as dark horses Czech Republic, he wasn't far wrong! Props, where props are due…
Teamwork and grit were the standout themes of the Greek players, with one squad member, Vasilis Tsiartas saying "We were all equals, together. We were all connected. It was unique."
At the end of the day, Rehhgal did what he needed to. He had a squad of dedicated, but not the most talented players, so he dispatched a formula that used those strengths and tested the metal of their opponents. Even the big ones!
Player Takis Fyssas said "We only had the weapons we had been given. We did not have a Zidane, or Simao, or Cristiano Ronaldo. We only had hard work, sacrifice, determination and that family spirit."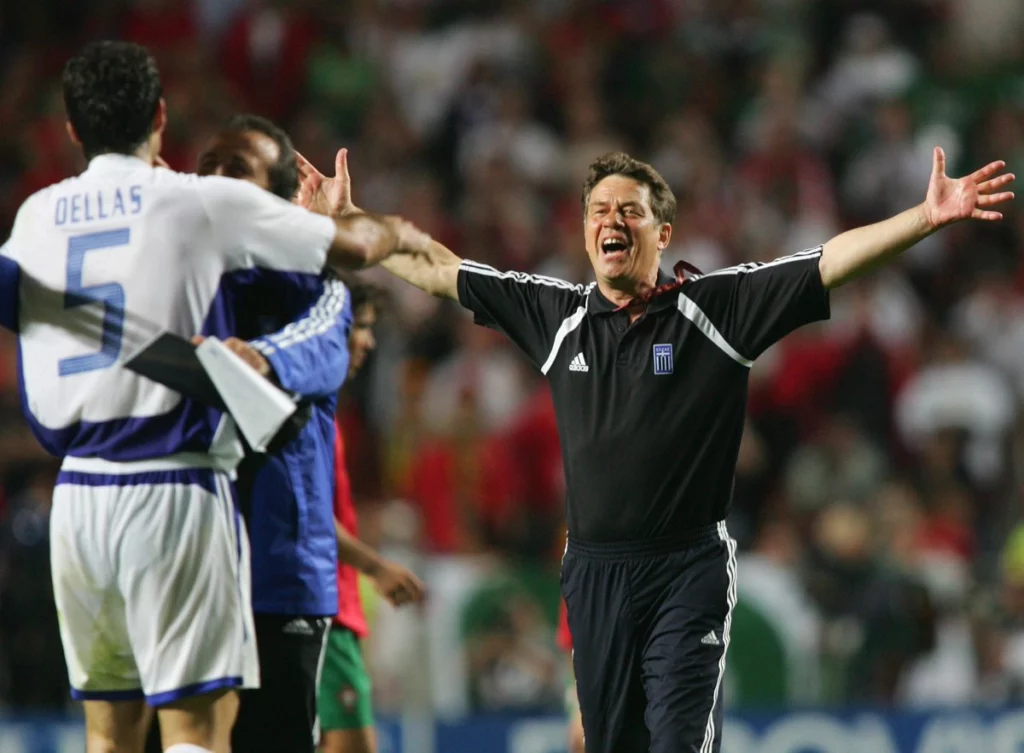 Despite what could be considered the ugliest tournament win in International football, nobody can take away from the Greeks what they achieved in Euro 2004.
Up and away…
This victory at Euro 2004 seemed to reignite a passion in Greek football.
Before the tournament, they had played only two major championships and done dreadful at both. After Euro 2004, Greece qualified for all but one of the major tournaments that they entered.